Bailee Madison, fresh off the success of her Netflix musical film A Week Away, plays Finley, the newest modern day Cinderella in A Cinderella Story: Starstruck.

This is the first modern retelling of Cinderella set in a country environment. Another thing this film has going for it is the Shakespearean twist when Finley disguises herself as a teenage boy.

Those two factors alone piqued my interest, and I'm happy to say this movie lived up to my expectations.

Here's the premise. Finley, who recently lost her father, lives with her oddly named stepfamily, consisting of stepmother Valerian (April Telek), stepsister Saffron (Lillian Doucet-Roche) and stepbrother Kale (Richard Harmon). Finley loves the farm, where she's spent her whole life, but she wants to be an actor.

When auditions are announced for a musical film to be shot nearby, she goes, but has to bring her pet pig Jon Ham, who gets loose during her performance, scuttling her chances. She's heartbroken over this missed opportunity, especially when Saffron is cast as a background performer.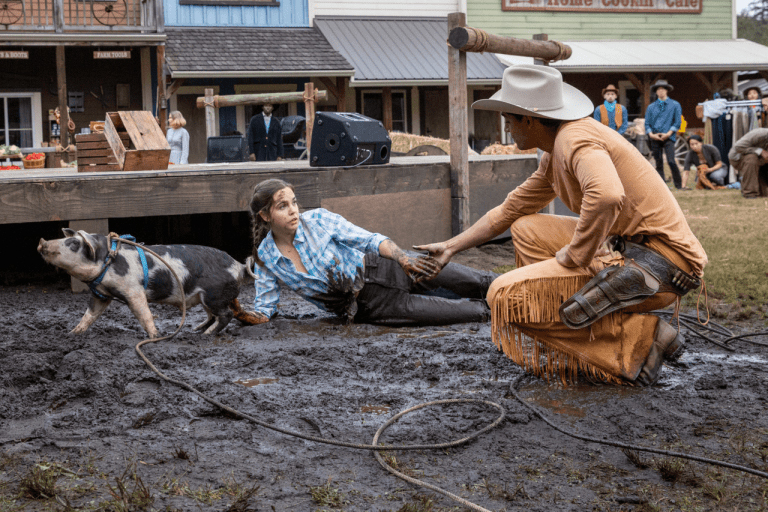 As Finley returns home to complete her many chores, she inadvertently rubs dirt under her nose, and when she eyes her reflection in a mirror, she comes up with an idea. The auditions are still going on, so she returns, dressed as a boy named Huck. When she performs a monologue that's actually the theme song for a '90s sitcom, her delivery is so heartfelt that the song is unrecognizable. She wows the director and gets a small part in the film.
Being a Cinderella movie, of course there has to be a prince -- or in this case, a reluctant movie star who goes by the name of Jackson Stone (Michael Evans Behling). When he first meets Finley immediately following her disastrous first audition, he's attracted to her because she's the first person he's met since he got into showbusiness who seems real. But when she leaves the set the first chance she gets, Jackson realizes he didn't even get her name.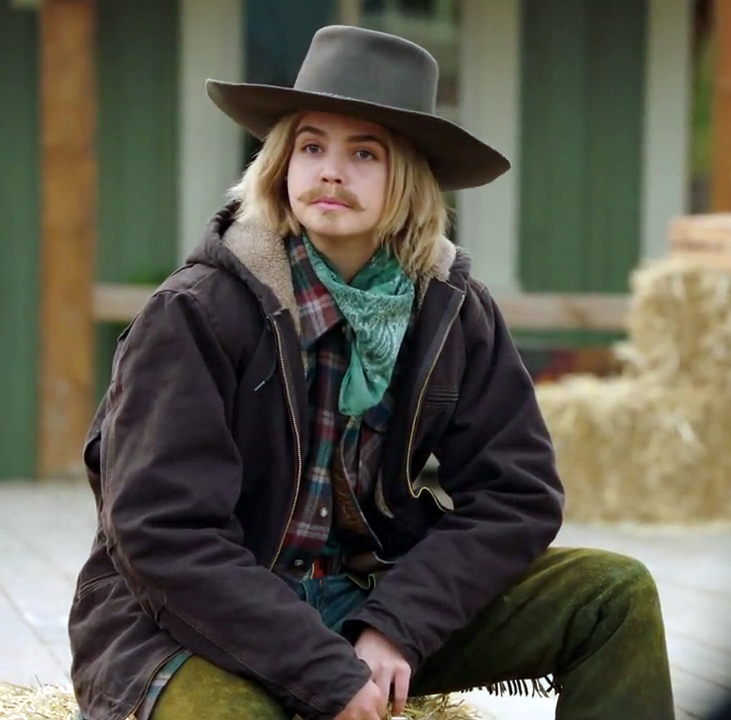 When she returns as Huck, Jackson doesn't recognize her, but he begins to feel a kinship with the young actor. In fact, Finley's portrayal of Huck is so believable that Saffron, seeing how cute "he" is, is immediately attracted.
Bailee Madison not only shows her dramatic and comedic acting range, but gets another chance to show off her singing talent in her second musical film. Since her early film appearances in the drama Bridge to Terabithia and her hilarious turn in the comedy Just Go With It alongside Adam Sandler and Jennifer Aniston, Bailee has been a very busy actor.
In this film, when she's pretending to be Huck, her movements and voice change quite a bit, allowing the audience to believe that her disguise could actually fool people.
Although the plot is somewhat predictable and likely aimed at younger viewers, it's immensely enjoyable and my favorite so far of the modern A Cinderella Story franchise.
The DVD comes with a couple of interesting bonus features. Finley's Best Friends: Meet the Farm Animals showcases the adorable piglet known as Jon Ham, as well as goats, chickens and the two horses ridden by Finley and Jackson in the film.
Dirt Under My Nails: The Making of a Cinderella Story gives a fascinating glimpse behind the scenes. We see that the crew wore masks during filming, which reveals that the film was shot sometime last summer (in British Columbia), during the pandemic. It was also interesting to see that although Bailee and Michael actually ride horses, there's a fake horse set up on a truck for a galloping scene. The featurette also gives us a sense of the comradery amongst the leading actors -- and how much fun this movie was to make. ~Alexandra Heilbron
A Cinderella Story: Starstruck released on digital June 29 and is available July 13, 2021 on DVD.