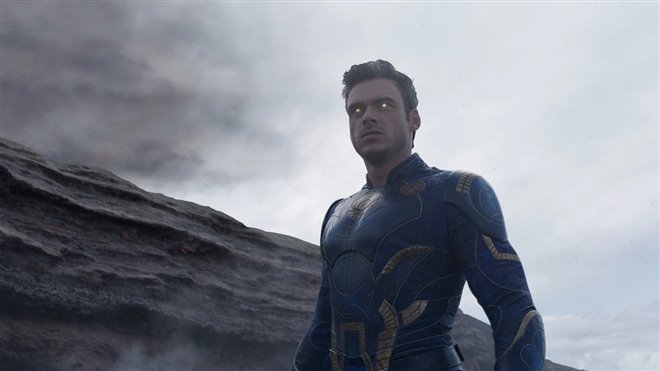 As it holds onto its IMAX screens across theaters and faces no new direct competition, Chloé Zhao's first Marvel movie, Eternals, maintained its top spot at the weekend box office for the second weekend in a row. The film saw a decline, earning $27.5 million for a total of $118.8 million in its second weekend in theaters.
Clifford the Big Red Dog debuted in the second place spot at the weekend box office. Despite being released in the middle of the week to mixed reviews, the animated film carried its momentum moving into the weekend, with no other family film to compete with. Clifford the Big Red Dog earned $16.4 million over the weekend, and with the addition of its Tuesday through Thursday earnings, the film has a total gross of $22 million in its first week of showings.
Dropping down one spot from last weekend to third place was Denis Villeneuve's Dune. Despite losing IMAX screens, with the relative lack of new competition this weekend, Dune held up well, seeing just a 29 percent decrease, earning $5.5 million for a four-week total of $93.1 million.
Taking fourth place at the weekend box office was MGM's No Time To Die. The Bond film saw a slim 19 percent decline this weekend, earning $4.6 million for a six-week total of $150 million, surpassing the $150 million domestic mark.
Rounding out this weekend's top five was Venom: Let There Be Carnage. The superhero film saw a 24 percent decline this weekend, earning $4 million for a seven-week total of $202.7 million, surpassing the $200 million domestic mark. ~Sean Olegario