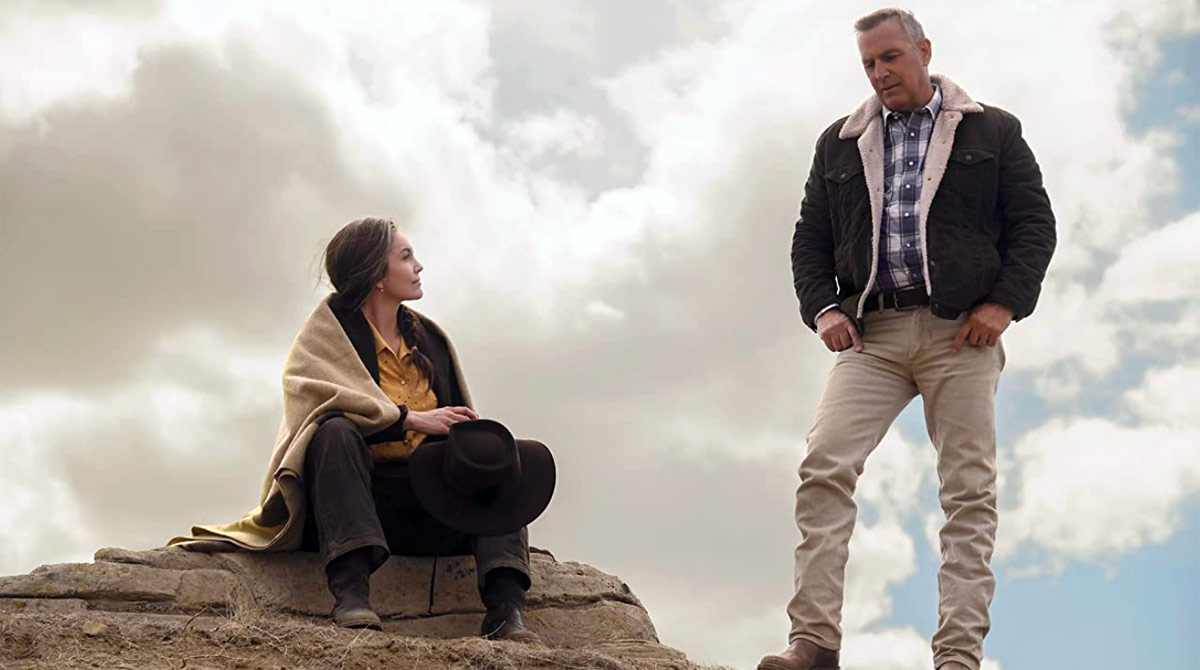 Check out the new DVDs, Blu-rays and streaming shows (Netflix, Amazon Prime Video, BritBox, Disney+, Acorn TV) coming out this week, including the theatrical release Let Him Go starring Kevin Costner and Diane Lane, and Falling starring, written and directed by Viggo Mortensen.  ~Alexandra Heilbron
Let Him Go - Following the loss of their son, retired sheriff George Blackledge (Kevin Costner) and his wife Margaret (Diane Lane) leave their Montana ranch to rescue their young grandson in the Dakotas after their widowed daughter-in-law Lorna marries an abusive man, Donnie Weboy, who beats both her and the little boy. When they discover that the Weboys are a dangerous family with a reputation for violence, George and Margaret try to convince Lorna to come with them, but she's afraid of Donnie and his mother (Lesley Manville). The Blackledges quickly realize that their quest will prove more difficult than they could have anticipated. Available on Blu-ray, DVD, VOD and Digital.
Wild Mountain Thyme - In Ireland, Rosemary Muldoon (Emily Blunt) has loved eccentric Anthony Reilly (Jamie Dornan) since she was a child, but Anthony treats her as if she was a sister. His father, Tony Reilly (Christopher Walken), fears that his son will never get married and have children, so he threatens to pass the family farm on to his American nephew Adam (Jon Hamm). Just as Anthony tries to work up the nerve to ask Rosemary to marry him, Adam, who goes after what he wants without hesitation, arrives in Ireland and immediately begins to woo Rosemary. Available on DVD, VOD and Digital.
The 2nd - While picking his son Shawn up from college, Secret Service Agent Vic Davis (Ryan Phillippe) meets Shawn's friend, Erin, the daughter of Supreme Court Justice Walton. She's being picked up by a new driver (Casper Van Dien), but has to run back inside the empty school to get her laptop. Suspicious, Vic follows her and suggests she call her father to confirm the new driver's identity. Suddenly, they find themselves in the middle of a high stakes terrorist operation, surrounded by gunfire. Vic has to use his skills to stop Erin from being kidnapped. Available on Blu-ray, DVD, VOD and Digital.
Falling - John's (Viggo Mortensen) widowed father Willis (Lance Henriksen), who always had a hair trigger temper, is now elderly and begins to show signs of dementia. John brings him to his home in California in order to care for him. However, in his elder years, Willis has become more toxic than ever. A stream of racist and homophobic comments constantly flow from his mouth. John is gay, but despite his horrific experience as a child with his father, he still feels bound by duty to take care of Willis. Available on VOD and Digital on Friday, Feb. 5.
Viggo Mortensen talks about which aspects of his new feature film Falling, which he directed, wrote, starred in, produced and composed the music for, were autobiographical. He reveals to interviewer Alexandra Heilbron what he likes best about filming in Canada and as a horse lover/owner, he talks about the horses seen in the film. Finally, he reveals that he has completed more screenplays and discusses what stage they're at in the pre-production process.
The SpongeBob Movie: Sponge on the Run - SpongeBob (Tom Kenny) comes home one day to find his beloved pet snail Gary has been snail-napped. SpongeBob and his friend Patrick (Bill Fagerbakke) head to The Lost City of Atlantic City to bring Gary home. They stop in an old western town filled with zombie cowboys, have a meeting with a mystic Sage (Keanu Reeves) who is made out of sage, take a trip to a carnival and have a visit with King Poseidon. Along the way SpongeBob and his pals prove there's nothing more important or stronger than the power of friendship. Available on Blu-ray, DVD, VOD and Digital.
The SpongeBob Movie: Sponge On The Run stars Tom Kenny (voice of SpongeBob) and Bill Fagerbakke (voice of Patrick Star) talk to our interviewer Alexandra Heilbron about the unique way their voices are recorded for SpongeBob productions, how things have changed in the world of SpongeBob over the past 20 years since they first started doing the voices for the TV show, and why even newcomers to the SpongeBob universe will love this latest movie, which also stars Keanu Reeves as the live-action character Sage.
February 1
48 Hrs. (Amazon Prime Video)
Another 48 Hrs. (Amazon Prime Video)
Bachelorette (Netflix)
Beverly Hills Cop II (Amazon Prime Video)
Beverly Hills Cop III (Amazon Prime Video)
The Big Sick (Amazon Prime Video)
Boy Erased (Netflix)
Brimstone (Netflix)
Cloudy with a Chance of Meatballs 2 (Netflix)
Dreamgirls (Amazon Prime Video)
Final Destination 5 (Netflix)
Friday (Netflix)
Friday After Next (Netflix)
Ghosts of Girlfriends Past (Netflix)
The House with a Clock in Its Walls (Netflix)
Just William (Acorn TV)
Léon: The Professional (Netflix)
Limitless (Amazon Prime Video)
Love Jacked (Netflix)
Mortal Engines (Netflix)
The Mortal Instruments: City of Bones (Netflix)
The NeverEnding Story (Netflix)
Next Friday (Netflix)
Parks and Recreation: Seasons 1 - 7 (Netflix)
Person of Interest: Season 1 - 5 (Amazon Prime Video)
RED (Netflix)
RED 2 (Netflix)
The Roommate (Netflix)
Spanglish (Netflix)
Stepmom (Netflix)
February 2
The 2nd (Blu-ray/DVD/VOD/Digital)
Breach (DVD/VOD/Digital)
Kid Cosmic (Netflix)
Let Him Go (Blu-ray/DVD/VOD/Digital)
Horror Noire: A History of Black Horror (Blu-ray/DVD)
Host (Blu-ray/DVD/VOD/Digital)
Love, Weddings & Other Disasters (Blu-ray/DVD/VOD/Digital)
Mighty Express: Season 2 (Netflix)
The Night Caller: Episode 23 (Sundance Now Original)
The Pembrokeshire Murders (BritBox)
The SpongeBob Movie: Sponge on the Run (Blu-ray/DVD/VOD/Digital)
Tiffany Haddish Presents They Ready: Season 2 (Netflix)
Wild Mountain Thyme (DVD/VOD/Digital)
February 3
All My Friends Are Dead (Netflix)
Babe (Netflix)
Black Beach (Netflix)
The Boy Next Door (Netflix)
Firefly Lane (Netflix)
Nanny McPhee (Netflix)
Nanny McPhee and the Big Bang (Netflix)
The Nutty Professor (Netflix)
Pitch Black (Netflix)
Red Dragon (Netflix)
Role Models (Netflix)
February 4
Becky (Amazon Prime Video)
The Murders (Sundance Now)
February 5
A Glitch in the Matrix (VOD)
After We Collided (Netflix)
Bliss (Amazon Prime Video Original)
Disney Upside-Down Magic (Disney+)
Falling (VOD/Digital)
Greenland (Amazon Prime Video Original)
Hache: Season 2 (Netflix Original)
Invisible City (Netflix Original)
The Last Paradiso (Netflix)
Like Mike (Disney+)
Little Big Women (Netflix)
Malcolm & Marie (Netflix)
The Reckoning (VOD/Digital)
Space Sweepers (Netflix)
Strip Down, Rise Up (Netflix)
Two of Us (VOD)
Waiting for God: Seasons 4 - 5 (BritBox)
WandaVision: Episode 5 (Disney+)
The Yin-Yang Master: Dream Of Eternity (Netflix)
February 6
A Discovery of Witches: Season 2, Episode 5 (Sundance Now)
Rust Valley Restorers: Season 2 (Netflix)
The Sinner: Jamie (Netflix)