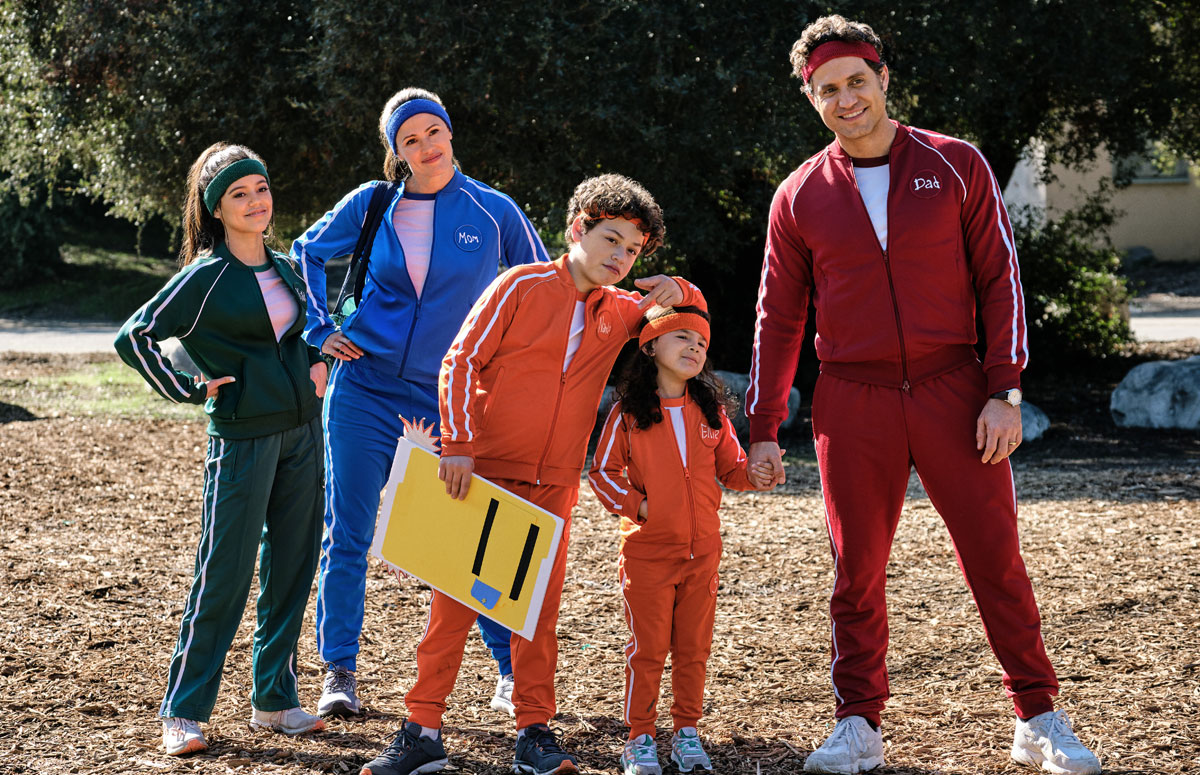 Check out the new DVDs, Blu-rays and streaming shows (Netflix, Amazon Prime Video, BritBox, Disney+, Acorn TV and more) coming out this week, including the comedy Yes Day starring Jennifer Garner and the drama Death of a Ladies' Man starring Gabriel Byrne. ~Alexandra Heilbron
Yes Day - Always feeling like they have to say "no" to their kids, Allison (Jennifer Garner) and Carlos Torres (Edgar Ramírez) decide to give their three children a "Yes Day," during which the kids have 24 hours to make the rules. The next morning starts off easily, but as the day goes on, they find it more and more difficult to keep up with their children. Wanting to make a difference in their children's lives, Allison and Carlos decide to go all in, leading to a day filled with hijinks. Debuts on Netflix March 12.
Death of a Ladies' Man - Professor Samuel O'Shea (Gabriel Byrne) discovers he has a large, inoperable tumor in his brain that will kill him within the year. Knowing that he's been a terrible father to his children, he tries to make it up to them, while writing a book about his life growing up without a mother, and losing his father at a young age. He travels back to his homeland of Ireland, where the hallucinations continue, but his visions of his late father Ben (Brian Gleeson) as a ghost become content for his book. In theaters and on VOD/Digital March 12.
Death of a Ladies' Man star Gabriel Byrne and director Matt Bissonette talk about the horror of addiction, which is what the main character is going through in the movie. Gabriel talks about his experiences with alcoholism and how he overcame it, while Matt reveals how he decided to cast Gabriel. Gabriel says despite the dramatic theme, the film was really fun to shoot, although he admits he was mortified when he had to dance and lip sync. And finally, Gabriel recites Leonard Cohen's "Alexandra's Leaving" to interviewer Alexandra Heilbron.
63 Up - In 1964, a British project now known as the Up series brought together a group of 14 British seven-year-old girls and boys. Directed by Michael Apted, this documentary series has followed their lives every seven years. Now in their early 60s, they share their experiences growing up in different socioeconomic backgrounds, as they explore the ever-changing world around them. This is likely the last in the series, as Apted passed away earlier this year. Debuts on BritBox March 9.
Boss Level - Retired U.S. Army Special Forces veteran Roy Pulver (Frank Grillo) finds himself trapped in a never-ending loop with relentless killers after him. As he tries to figure out why this is happening and how to escape the time loop, he comes up with a theory. His ex-wife (Naomi Watts) was killed by a gang of murderers led by Colonel Clive Vector (Mel Gibson) as she was working on a time-travel machine. He believes she may have put him in a time loop so he can replay the events each day, until he figures out how to put a stop to it. On VOD/Digital March 9.
March 8
Behind the White Glasses (Sundance Now)
Bombay Begums (Netflix Original)
Bombay Rose (Netflix)
Love & Anarchy (Sundance Now)
Love My Way: Series 3 (Acorn TV)
Seven Beauties (Sundance Now)
The Strange Calls (Acorn TV)
March 9
63 Up (BritBox)
Adverse (DVD/VOD/Digital)
Boss Level (VOD/Digital)
The Dead of Night (VOD/Digital)
The Guest (Netflix)
The Houseboat (Netflix Original)
IP Man: Kung Fu Master (DVD/Blu-ray/VOD/Digital)
ON-GAKU: Our Sound (DVD/Blu-ray)
Rent-A-Pal (DVD/Blu-ray)
StarBeam: Season 3 (Netflix)
Jump, Darling (VOD/Digital)
Vanguard (DVD/Blu-ray)
March 10
Dealer (Netflix Original)
Jack and Jill (Amazon Prime Video)
Last Chance U: Basketball (Netflix)
Marriage or Mortgage (Netflix Original)
The Priest (Amazon Prime Video)
March 11
The Block Island Sound (Netflix)
Coven of Sisters (Netflix)
The Luminaries: Season 1 (Amazon Prime Video)
The Painter and The Thief (Amazon Prime Video)
The Secrets We Keep (Amazon Prime Video)
March 12
The Bridge: Season 2 (Sundance Now)
Cherry (Apple TV+)
Death of a Ladies' Man (Digital/VOD)
Disney Junior Doc McStuffins: The Doc Is In (Disney+)
Jane (Disney+)
Love Alarm: Season 2 (Netflix Original)
Making Their Mark: Season 1 (Amazon Original)
Marvel Studios: Assembled - Season 1 premiere (Disney+)
Miss Peregrine's Home For Peculiar Children (Disney+)
The One (Netflix Original)
Open All Hours: Seasons 1-4 (BritBox)
Own the Room (Disney+)
Paper Lives (Netflix)
Paradise PD: Part 3 (Netflix Original)
Yes Day (Netflix)
March 13
Kannaddi (Amazon Prime Video)
March 14
The Curse of La Llorona (Netflix)