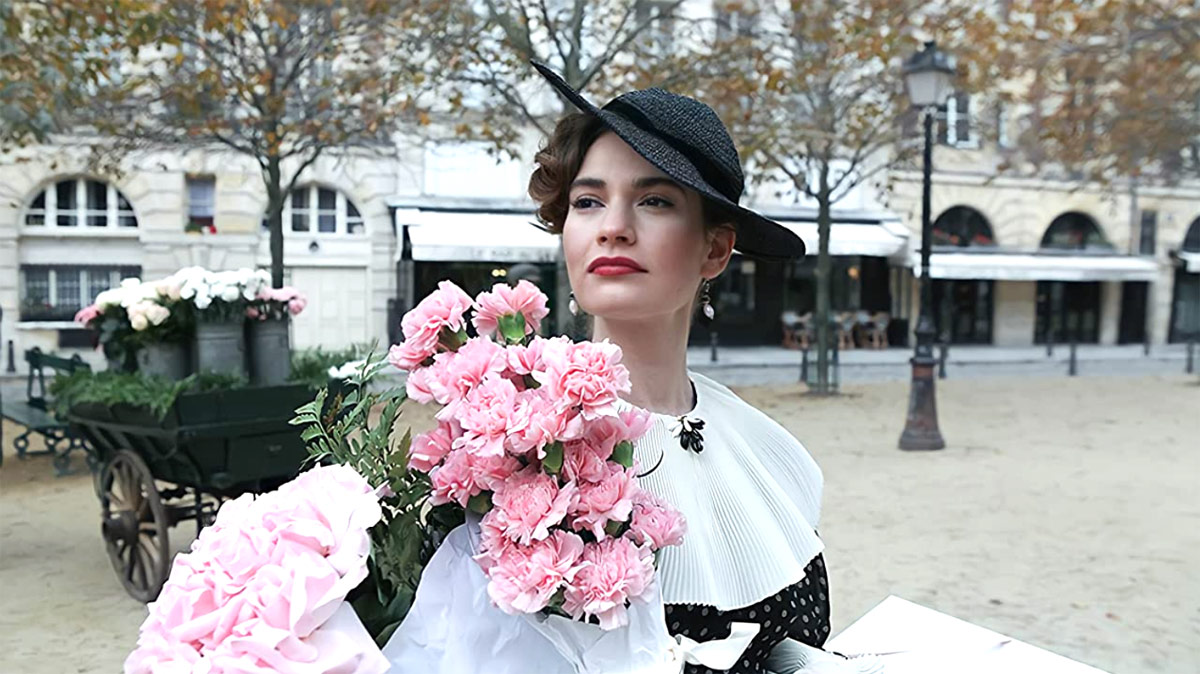 July transforms into August this Sunday, and with that comes a collection of new movies and series to cap off the hottest month of the year. Check out the hottest new releases for at-home viewing, including Disney's much-anticipated film Jungle Cruise, Outer Banks Season 2, and the Amazon Prime Video Original The Pursuit of Love. ~Cassandra Coleman
The Pursuit of Love: Set in England before World War II, Linda Radlett (Lily James) and her cousin Fanny (Emily Beecham) live in their great country home along with other members of their family. However, the girls are desperate for an escape, because Linda's father (Dominic West) has strange ideas about raising children and Fanny's mother left when she was a child, leaving bad memories behind. Now desperate to escape their childhood home, Linda enters the world in search of one thing: true love. Along the way, she and Fanny discover themselves outside the confines of their strict and unwavering family. Available for streaming on Amazon Prime Video July 30.
Jungle Cruise: Dr. Lily Houghton (Emily Blunt) and Captain Frank Wolff (Dwayne Johnson) are on a mission to locate the legendary Tree of Life. The tree lives somewhere in the Amazon forest, where masked obstacles exist at every turn. With the odds against them, Lily and Frank must survive the countless dangers that lurk in the jungle and fight off those who are after the ancient curative tree for evil. Available only in theaters or through Disney+ with Premier Access starting July 30.
Outer Banks: Season 2: Following the events of the season one finale, teens JJ (Rudy Pankow), Pope (Jonathan Daviss) and Kiara (Madison Bailey) miss John B (Chase Stokes) since he disappeared with Sarah (Madelyn Cline). But the missing pair is far from dead, and the second season will follow the adventures of the teens as they find their way back together in the idealistic Outer Banks. Coming to Netflix July 30.
Every Breath You Take: Psychiatrist Dr. Clark (Casey Affleck) loses his patient Daphne (Emily Alyn Lind) to an apparent suicide after her best friend dies in a car accident. Horrified, Dr. Clark grieves his patient's death, but he's soon visited by Daphne's brother James (Sam Claflin), who is bent on making the doctor's life a living nightmare by ruining his career and tearing his family apart. Watch it on DVD/Blu-ray July 27.
July 26
The Goldfinch (Netflix)
The Heart Guy: Series 2 (Acorn TV)
Sarpatta Parambarai (Amazon Prime Video)
The Walking Dead: S10 (Netflix)
July 27
A Quiet Place Part II (DVD/Blu-ray)
The Angry Birds Movie 2 (Netflix)
Blaze and the Monster Machines: The Case of the Treat Thief (DVD)
Every Breath You Take (DVD/Blu-ray)
For Madmen Only: The Stories of Del Close (VOD/Digital)
The God Committee (DVD)
The Last Black Man in San Francisco (Netflix)
Midnight in the Switchgrass (DVD/Blu-ray)
Mighty Express: S4 (Netflix)
Quem Vai Ficar Com Mário (Amazon Prime Video)
We Are Many (VOD/Digital)
Whitechapel (BritBox)
July 28
Bartkowiak (Netflix)
Chip 'N' Dale: Park Like: S1, Premiere (Disney+)
Dreams Come True (Amazon Prime Video)
Monsters at Work: S1, New Episode (Disney+)
The Snitch Cartel: Origins (Netflix)
Tattoo Redo (Netflix)
Too Hot to Handle: Brazil (Netflix)
Turner & Hooch: S1, New Episode (Disney+)
Turning the Tables with Robin Roberts: Premiere (Disney+)
The Wonderful World of Mickey Mouse: Batch 2, Premiere (Disney+)
July 29
Resort to Love (Netflix)
Transformers: War for Cybertron: Kingdom (Netflix)
The Wedding of the Century (BritBox Exclusive)
The Wine Show: S3 (Sundance Now)
July 30
5x Comédia: S1 (Amazon Prime Video Original)
Anna (Netflix)
Celebrity Hunted: Caccia all'uomo: S1-2 (Amazon Prime Video Original)
Centaurworld (Netflix)
Disney Junior T.O.T.S.: S2 (Disney+)
ER: S1-15 (Amazon Prime Video)
Glow Up: S3 (Netflix)
High School Musical: The Musical: The Series: S2, New Episode (Disney+)
Jungle Cruise (Disney+ Premier Access)
Lilith (Digital/VOD)
Lorelei (VOD/Digital)
The Last Mercenary (Netflix)
Moth Effect: S1 (Amazon Prime Video Original)
The Mysterious Benedict Society: S1, New Episode)
Myth & Mogul: John DeLorean (Netflix)
Nemesis (VOD/Digital
O Melhor Verão das Nossas Vidas (Amazon Prime Video)
Outer Banks: S2 (Netflix)
The Pursuit of Love (Amazon Prime Video Original)
Tailgate (VOD/Digital)
July 31
Chhori (Amazon Prime Video)
August 1
16 Blocks (2006) (Tubi)
The Addams Family (Netflix)
The Adventures of Pluto Nash (2002) (Tubi)
Batman Forever (1995) (Tubi)
Blade II (2002) (Tubi)
The Butterfly Effect (2004) (Tubi)
Body of Lies (Netflix)
Captive State (Netflix)
Chocolat (Netflix)
Darwin's Game (Netflix)
Ella Enchanted (Netflix)
The Expendables (Netflix)
The Expendables 2 (Netflix)
The Expendables 3 (Netflix)
Fathers and Guns (Netflix)
For Life: S1 (Netflix)
Good Luck Chuck (Netflix)
The Graduate (Netflix)
The Green Mile (Netflix)
Guess Who's Coming to Dinner (Netflix)
Hugo (Netflix)
Jackass Presents: Bad Grandpa (Netflix)
Jackass Presents: Bad Grandpa .5 (Netflix)
Jackass: Number Two (Netflix)
Jackass 3 (Netflix)
Jackass 3.5: The Unrated Movie (Netflix)
Jerry Maguire (Netflix)
Kill 'em All (Netflix)
Kiss the Girls (Netflix)
Laurence Anyways (Netflix)
Looper (Netflix)
The Losers (Netflix)
Ma (Netflix)
Man on a Ledge (Netflix)
Menace II Society (Netflix)
Michael Clayton (2007) (Tubi)
Murder by Numbers (2002) (Tubi)
My Fair Lady (Netflix)
Nancy Drew (2007) (Tubi)
The Perks of Being a Wallflower (Netflix)
Primal Fear (Netflix)
Project X (2012) (Tubi)
Star Trek (Netflix)
Star Trek Into Darkness (Netflix)
Training Day (2001) (Tubi)
World Trade Center (Netflix)