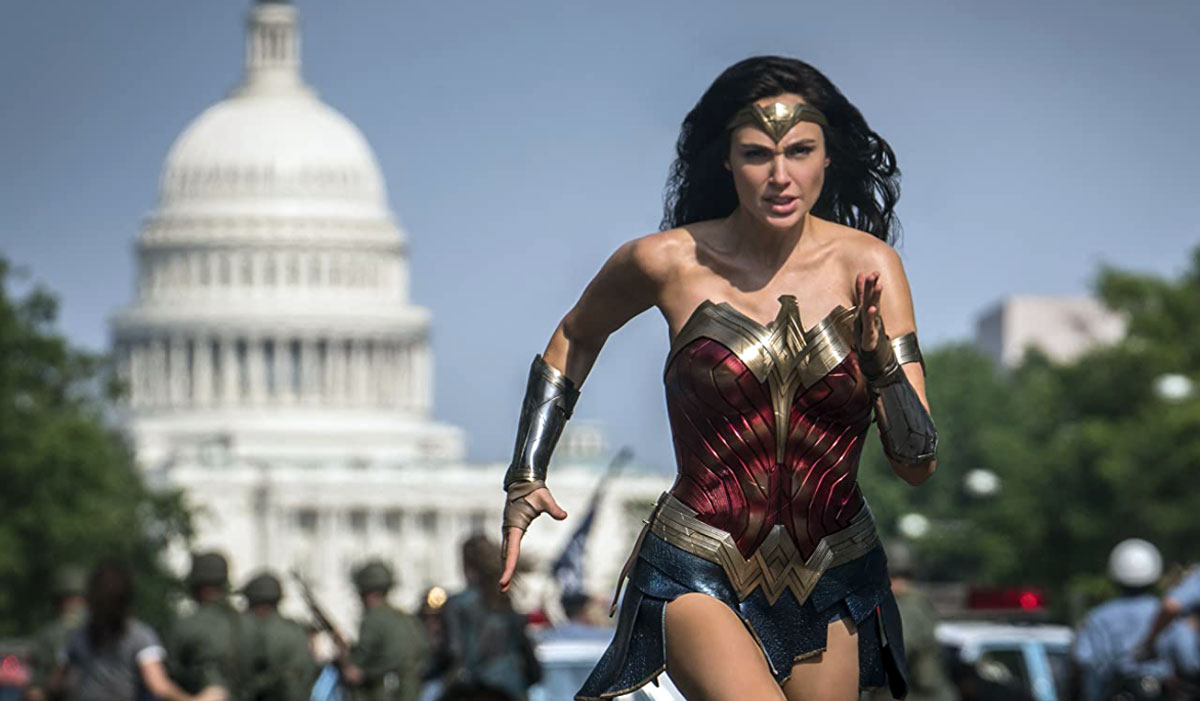 Check out the new DVDs, Blu-rays and streaming shows (Netflix, Amazon Prime Video, BritBox, Disney+, Acorn TV and more) coming out this week, including Wonder Woman 1984 and the Oscar-nominated film Another Round. ~Alexandra Heilbron
Wonder Woman 1984 -This sequel to the 2017 hit movie Wonder Woman takes place in the 1980s, as supervillain Maxwell Lord (Pedro Pascal) announces to the world that "whatever anyone dreams of, they can have it." British archaeologist Dr. Barbara Ann Minerva (Kristen Wiig) takes him at his word. She wants to be an apex predator and is transformed into the Cheetah, a predator who hunts and devours humans. Meanwhile, Diana is amazed and thrilled to see Steve Trevor (Chris Pine), who appears in 1984. She helps him get used to the era as they try to stop Cheetah from killing people. Available March 30 on DVD/Blu-ray.
Another Round - While out with his three closest colleagues, Martin (Mads Mikkelsen) is cajoled into having a drink. One of the men, Nikolaj, tells them about an obscure philosopher who says humans aren't born with enough alcohol in their blood. As an "experiment," he proposes they all drink constantly throughout the day to maintain the "proper" blood-alcohol level of 0.05 percent. Initially they feel great. A reinvigorated Martin shocks his long-suffering wife with his newfound zest. But as the gang pushes their experiment further, the men begin to experience serious problems. Available March 30 on DVD/Blu-ray and VOD.
Run - Chloe (Kiera Allen), a teenager who is confined to a wheelchair, is homeschooled by her mother, Diane (Sarah Paulson). However, her mother's strange behavior doesn't go unnoticed and when Chloe pries into some private papers, she discovers a Change of Name Certificate document with her mother's name, Diane Sherman, on it. When Chloe googles "Diane Sherman," the internet suddenly disconnnects. Chloe becomes suspicious of all that her mother does, suspecting her of something sinister. She decides to go on the run in her wheelchair in a desperate attempt to get away from her. Debuts April 2 on Netflix.
Concrete Cowboy - When Cole (Caleb McLaughlin) gets expelled from yet another Detroit school, his mother drops him on his father's doorstep. Harp (Idris Elba) is a taciturn loner with a love for horses, spending his days at the stables down the block. With no choice but to stay with his father, Cole agrees to work at the stables, joining other local riders who are trying to keep the city from shutting the club down. When Cole reconnects with his childhood best friend, Smush, who's a drug dealer now, Cole has to decide whether to join Smush or put in the work that will bring him closer to his father. Debuts April 2 on Netflix.
March 29
Annabelle Subramaniam (Amazon Prime Video)
Bloodlands: Episode 3 of 4 (Acorn TV Original)
The Brokenwood Mysteries: Series 7 (Acorn TV Exclusive)
Gods of Egypt (Netflix)
The Gods of Wheat Street (Acorn TV)
In Deep: Series 2 (Acorn TV)
Ishq (Amazon Prime Video)
Rainbow High: Season 1 (Netflix)
March 30
55 Steps (DVD)
Another Round (DVD/Blu-ray)
The Greatest Show on Earth (Blu-ray)
Octonauts & the Ring of Fire (Netflix)
Our Friend (DVD/VOD/Digital)
The South Westerlies (DVD)
The Ten Commandments (4K Ultra HD)
Wonder Woman 1984 (DVD/Blu-ray)
March 31
Haunted: Latin America (Netflix Original)
Lone Survivor (Amazon Prime Video)
Walk Among The Tombstones (Amazon Prime Video)
April 1
300 (Netflix)
Alita: Battle Angel (Netflix)
Alita: Battle Angel (Disney+)
Ambassadors (BritBox)
Asterix: The Secret of the Magic Potion (Netflix)
Breakaway (Netflix)
The Brittas Empire: Seasons 1-6 (BritBox)
Caravan of Courage: An Ewok Adventure (Disney+)
Cold Pursuit (Netflix)
Crank (Netflix)
Crank 2: High Voltage (Netflix)
Dating Amber (Netflix)
Disney Walk the Prank: Seasons 1-3 (Disney+)
The Eagle (Netflix)
Ewoks: The Battle for Endor (Disney+)
The Falcon and The Winter Soldier: Season 1, Episode 3 (Disney+)
Fargo (Sundance Now)
Feud: Bette and Joan (Disney+)
The Flash: Season 7 (Netflix)
Glass (Netflix)
Green Book (Netflix)
Grindhouse: Death Proof (Netflix)
Grindhouse: Planet Terror (Netflix)
Grown-ish: Season 3, New Episode (Disney+)
Happy Death Day 2U (Netflix)
Helstrom: Season 1, New Episode (Disney+)
Higglytown Heroes: Season 1-2 (Disney+)
Hi-de-Hi!: Seasons 1-9 (BritBox)
In the Line of Fire (Netflix)
The Island at the Top of the World (Disney+)
The Last Exorcism (Netflix)
Kamen Rider Amazons: Season 1 (Amazon Prime Video)
LOL: Last One Laughing Italy: Season 1 (Amazon Prime Video)
Love Don't Cost a Thing (Netflix)
Love, Victor: Season 1, New Episode (Disney+)
Magical Andes: Season 2 (Netflix)
Margin Call (Netflix)
The Mighty Ducks: Game Changers: Season 1, Episode 2 (Disney+)
The New Guy (Netflix)
Pan Am (Sundance Now)
PAW Patrol: Season 7 (Netflix)
Playing for Keeps: Season 2, Episode 7 (Sundance Now)
Prank Encounters: Season 2 (Netflix Original)
Racetime! (Netflix)
The Secret Life of the American Teenager: Season 1-5 (Disney+)
Shoot 'Em Up (Netflix)
Solar Opposites: Season 1, New Episode (Disney+)
Star Wars: Clone Wars: Volume I & II (Disney+)
Star Wars: Ewoks: Season 1-2 (Disney+)
Story of the Faithful Wookiee (Disney+)
Tersanjung the Movie (Netflix)
Tolkien (Disney+)
This Time with Alan Partridge: Season 1 (BritBox)
Urban Legend (Netflix)
Watchmen (Netflix)
Worn Stories (Netflix)
April 2
Amazing Grace (Netflix)
Concrete Cowboy (Netflix)
Just Say Yes (Netflix)
Madame Claude (Netflix)
No Ordinary Man (VOD/Digital)
Run (Netflix)
The Serpent (Netflix)
Shiva Baby (VOD/Digital)
Sky High (Netflix)
The Spongebob Movie: Sponge on the Run (Amazon Prime Video)
The Violent Heart (VOD/Digital)
The War with Grandpa (Amazon Prime Video)
April 3
Easter From Kings 2021 (BritBox)
Escape from Planet Earth (Netflix)
High Life (Netflix)
April 4
What Lies Below (Netflix)