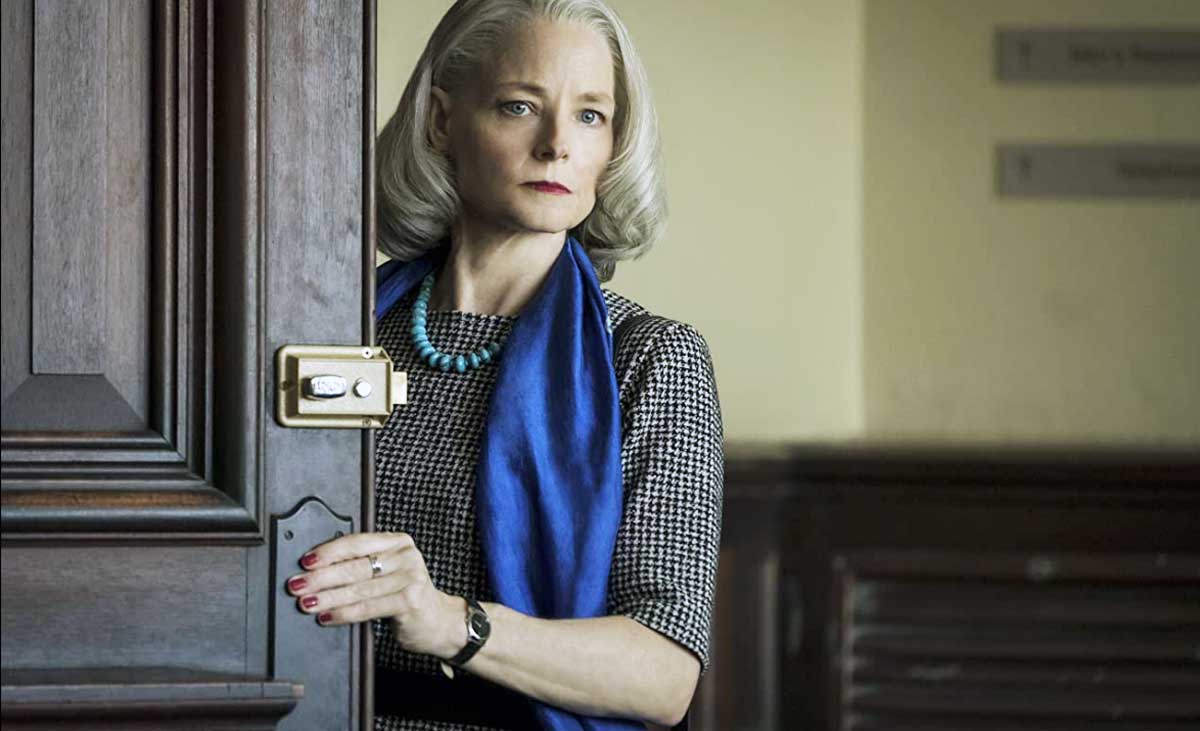 Check out the new DVDs, Blu-rays and streaming shows (Netflix, Amazon Prime Video, Disney+, Acorn TV and more) coming out this week, including the award-winning film The Mauritanian, starring Jodie Foster, Shailene Woodley and Benedict Cumberbatch. ~Alexandra Heilbron
The Mauritanian - Mohamedou Ould Slahi (Tahar Rahim, who received a Golden Globe nomination for his performance) has been held for years in prison at Guantanamo Bay Prison Camp by the U.S. Government without a single charge or the possibility of a trial, on suspicion that he was involved in the attacks that took place in America on 9/11. Defense attorney Nancy Hollander (Jodie Foster, who won a Golden Globe for her role) and her associate Teri Duncan (Shailene Woodley) decide to take on his case. They run into opposition from Lieutenant Colonel Stuart Couch (Benedict Cumberbatch), but as he uncovers evidence, he begins to believe there has been a conspiracy to detain innocent men. Available May 11 on DVD/Blu-ray/VOD/Digital.
The Marksman - Arizona rancher Jim Hanson (Liam Neeson) is trying to make a living on an isolated stretch of borderland. Everything changes when Hanson, an ex-Marine sharpshooter, witnesses 11-year-old migrant Miguel fleeing with his mother Rosa from drug cartel assassins. After being caught in a shoot-out, a dying Rosa begs Jim to take her son to safety to her family in Chicago. Jim sneaks Miguel out of the local U.S. Customs and Border Patrol station and together, they hit the road with the group of killers in pursuit. Available May 11 on DVD/Blu-ray/VOD/Digital.

The Woman in the Window - Dr. Anna Fox (Amy Adams), once a successful child psychologist, is now afraid to go outside, so she spends her time watching classic movies on television, drinking wine and occasionally, spying on her neighbors across the street—a father (Gary Oldman), mother (Julianne Moore) and their teenage son, Ethan. One night, she witnesses a disturbing act of violence, but when she reports it, no one believes her, not even the police. Debuts on Netflix May 14.

Land - Edee (Robin Wright, who also directs), in the aftermath of an unfathomable event, finds herself unable to stay connected to the world she once knew and in the face of that uncertainty, retreats to the magnificent, but unforgiving, wilds of the Rockies. After a local hunter (Demián Bichir) brings her back from the brink of death, she must find a way to live again. Available May 11 on DVD/Blu-ray/VOD.
May 10
Amazon Funnies Line Up #1 (Amazon Prime Video)
Amber (Acorn TV)
Blinded – Those Who Kill (Acorn TV Exclusive)
Burn Burn Burn (Sundance Now)
Girl Rising (Sundance Now)
Gun Runners (Sundance Now)
Harmonium (Sundance Now)
Keeping Faith: Series 3 (Acorn TV Original)
No Small Matter (Sundance Now)
Shaft (Netflix)
May 11
A Suitable Boy (DVD)
The Battle for Britney: Fans, Cash and a Conservatorship (BBC SELECT)
Earwig and the Witch (DVD/Blu-ray)
Goodbye Honey (VOD)
John Wayne Essential 14-Movie Collection (DVD)
Justice Society: World War II (DVD/Blu-ray/Digital)
Land (DVD/Blu-ray/Digital)
Long Weekend (Digital)
The Marksman (DVD/Blu-ray/VOD/Digital)
The Mauritanian (DVD/Blu-ray/VOD/Digital)
Money, Explained (Netflix)
Morgue (DVD/Blu-ray/Digital)
Pixie (DVD/VOD/Digital)
Senior Moment (DVD/Blu-ray/VOD/Digital)
The Seventh Day (DVD/Blu-ray/VOD/Digital)
Terror Lake Drive: Season 1 (DVD)
Together Together (VOD/Digital)
What Lies West (DVD/VOD)
May 12
Dance of the Forty One (Netflix)
Just My Luck (Amazon Prime Video)
Oxygen (Netflix)
Production #8 (Amazon Prime Video)
The Upshaws (Netflix Original)
May 13
Castlevania: Season 4 (Netflix)
Karnan (Amazon Prime Video)
May 14
A Madea Family Funeral (Netflix)
Ferry (Netflix)
Haunted: Season 3 (Netflix Original)
High Ground (VOD/Digital)
Horizon Line (Amazon Prime Video Original)
I Am All Girls (Netflix)
In the Earth (VOD/Digital)
Jungle Beat: The Movie (Netflix)
The Killing of Two Lovers (VOD/Digital)
The Last Hour: Season 1 (Amazon Prime Video Original)
LOL: Si te ríes, pierdes: Season 1 (Amazon Prime Video Original)
Love, Death & Robots: Volume 2 (Netflix Original)
Move to Heaven (Netflix Original)
The Strange House (Netflix)
Synchronic (Netflix)
The Underground Railroad (Amazon Prime Video Original)
The Woman in the Window (Netflix)
May 15
Tuck Jagdish (Amazon Prime Video Original)
Black Fox: Age of The Ninja (Amazon Prime Video Original)
He Who Can't Marry: Season 1-2 (Amazon Prime Video Original)
May 16
Bali (Amazon Prime Video Original)
Little (Netflix)
Shiva 143 (Amazon Prime Video Original)