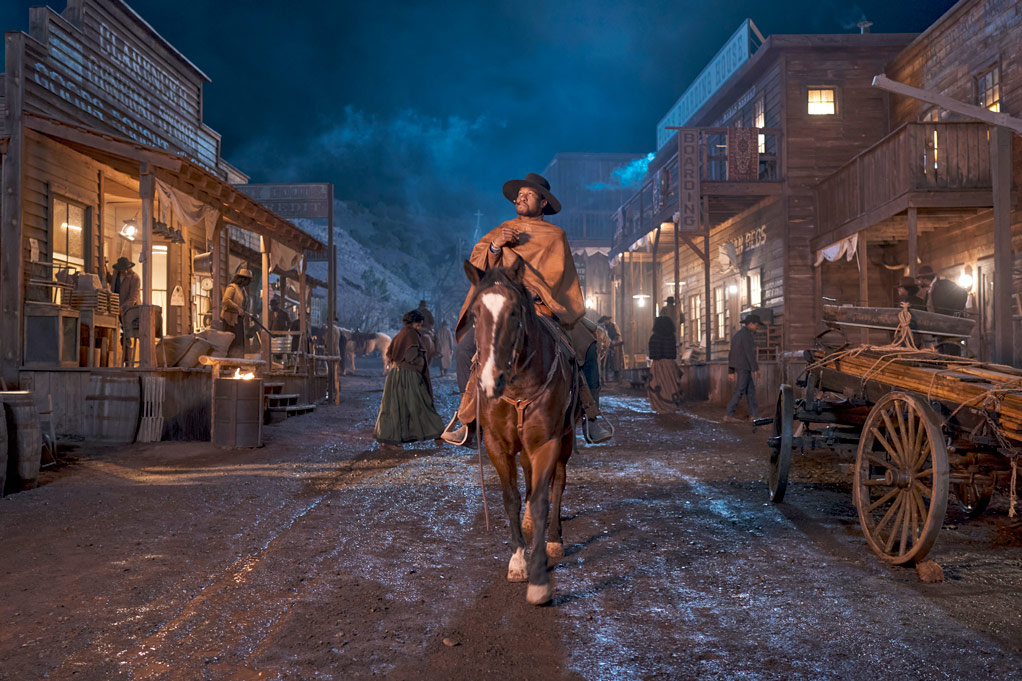 Check out what's streaming on Netflix, Amazon Prime Video, Apple TV+, Disney+, BritBox and more, as well as what's new on DVD and Blu-ray, including The Harder They Fall starring Idris Elba and PAW Patrol: The Movie. See the full list below! ~Alexandra Heilbron
The Harder They Fall - Rufus Buck (Idris Elba) has just been broken out of prison by Trudy Smith (Regina King). Nat Love (Jonathan Majors), an outlaw who hunts down those who cross him, catches wind of the news and sets his eyes on taking down Rufus, who is responsible for murdering his parents. Debuts on Netflix Nov. 3.
PAW Patrol: The Movie - When their biggest rival, Humdinger, becomes Mayor of nearby Adventure City and starts wreaking havoc, Ryder and everyone's favorite heroic pups kick into high gear to face the challenge head on. Together, armed with exciting new gadgets and gear, the PAW Patrol fights to save the citizens of Adventure City! Available Nov. 2 on DVD/Blu-ray.
A Man Named Scott - In 2009, Kid Cudi released his debut LP, Man on the Moon: The End of Day. A genre-bending album that broke barriers with songs about depression, anxiety and loneliness, it launched Cudi as a musical star and cultural hero. This documentary explores Cudi's journey over a decade of creative choices, struggles and breakthroughs, making music that continues to move and empower his millions of fans. Debuts on Amazon Prime Video Nov. 5.
November 1
The 40-Year-Old Virgin (Netflix)
An Elf's Story: The Elf on the Shelf (Netflix)
Angry Birds: Season 4 - Slingshot Stories (Netflix)
Autumnwatch 2021 (BritBox)
The Bourne Identity (Netflix)
The Bourne Legacy (Netflix)
The Bourne Supremacy (Netflix)
The Bourne Ultimatum (Netflix)
The Claus Family (Netflix)
Crocodile Dundee (Netflix)
Crocodile Dundee II (Netflix)
Daddy's Home (Netflix)
Dance with Me (Netflix)
Dear Santa (Netflix)
Dora and the Lost City of Gold (Netflix)
Downton Abbey (Netflix)
Dr. Seuss' The Cat in the Hat (Netflix)
Dr. Seuss' The Lorax (Netflix)
Elf Pets: Santa's St. Bernards Save Christmas (Netflix)
First Daughter (Netflix)
Forrest Gump (Netflix)
Four Brothers (Netflix)
Gather (Netflix)
The Hurt Locker (Netflix)
Hustlers (Netflix)
Just My Luck (Netflix)
L.A. Confidential (Netflix)
The Man Who Invented Christmas (Netflix)
Minority Report (Netflix)
My Dad's Christmas Date (Netflix)
No Strings Attached (Netflix)
Not Another Teen Movie (Netflix)
The Other Boleyn Girl (Netflix)
Shutter Island (Netflix)
Terminator 2: Judgment Day (Netflix)
Tyler Perry's Good Deeds (Netflix)
November 2
A Beautiful Day in the Neighborhood (Netflix)
The Banishing (DVD/Blu-ray)
Bigfoot Famous (Digital)
Camp Confidential: America's Secret Nazis (Netflix)
Candyman (Digital)
The Cleaner (BritBox)
Come True (DVD/Blu-ray)
The Crown: Season 4 (DVD/Blu-ray)
The Eyes of Tammy Faye (Digital)
The Flood (Digital/VOD/DVD)
The Guns of Navarone (4K Ultra HD/Blu-ray)
Hacksaw Ridge (4K Ultra HD)
The Loud House: Cooked: Season 3, Vol. 2 (DVD)
Nine Days (DVD/Digital)
PAW Patrol: The Movie (DVD/Blu-ray)
Pig (DVD/Blu-ray)
Ridley Jones: Season 2 (Netflix)
River's End (VOD)
Star Trek: Discovery Seasons 1-3 (DVD/Blu-ray)
Zone 414 (DVD/Blu-ray)
November 3
Bob's Burgers: Season 11 (Disney+)
Bob's Burgers: Season 12, New Episode (Disney+)
Deadpool 2 (Disney+)
Doogie Kamealoha, M.D: Season 1, New Episode (Disney+)
Family Guy: Season 20, New Episode (Disney+)
The Great North: Season 2, New Episode (Disney+)
The Harder They Fall (Netflix)
How the Grinch Stole Christmas (2000) (Netflix)
JoJo Rabbit (Disney+)
Lords of Scam (Netflix)
National Lampoon's Animal House (Netflix)
Richard Jewell (Netflix)
Scent of a Woman (Netflix)
The Simpsons: Season 33, New Episode (Disney+)
November 4
The Alpinist (Amazon Prime Video)
Catching Killers (Netflix)
Mock The Week (BritBox)
November 5
A Cop Movie (Netflix)
A Man Named Scott (Amazon Prime Video)
The Beta Test (VOD/Digital)
Big Mouth: Season 5 (Netflix)
The Electrical Life of Louis Wain (Amazon Prime Video)
Gaza Mon Amour (VOD/Digital)
Glória (Netflix)
Love Hard (Netflix)
Meenakshi Sundareshwar (Netflix)
The Morning Show: Season 2, New Episode (Apple TV+)
Narcos: Mexico: Season 3 (Netflix)
Pete The Cat: Season 2, Part 5 (Amazon Prime Video)
Prep & Landing: Operation Secret Santa (Short) (Disney+)
Ripper Street: Season 3 (Netflix)
Sherlock: Season 2 (CBC Gem)
Stath Lets Flats: Season 2 (CBC Gem)
Tampa Baes (Amazon Prime Video)
Tommy Little: I'll See Myself Out (Amazon Prime Video)
The Unlikely Murderer (Netflix)
We Couldn't Become Adults (Netflix)
Yara (Netflix)
Zero to Hero (Netflix)
November 6
Arcane (Netflix)
November 7
Father Christmas is Back (Netflix)
Yellowstone: Season 4 (Amazon Prime Video)