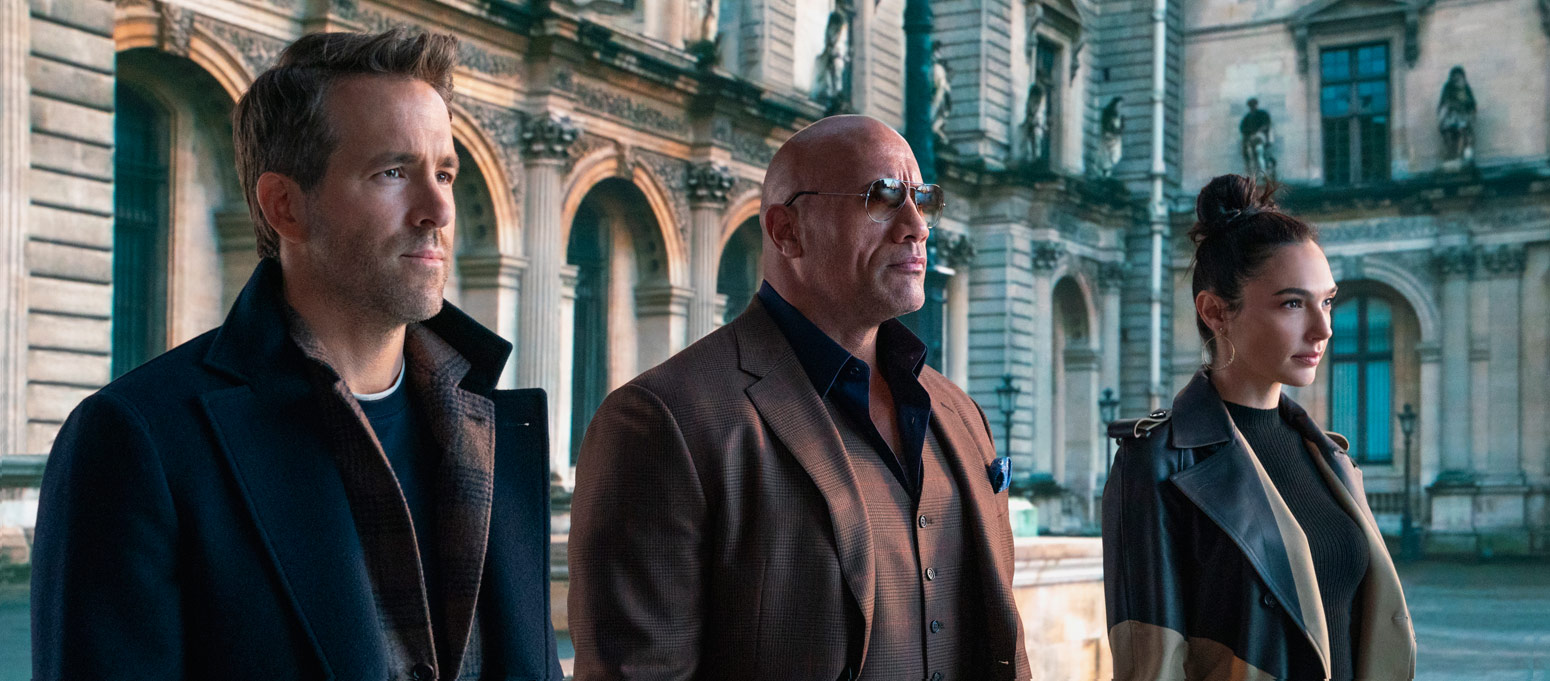 Check out what's streaming on Netflix, Amazon Prime Video, Apple TV+, Disney+, BritBox and more, as well as what's new on DVD and Blu-ray, including Red Notice on Netflix and My Salinger Year on DVD/Blu-ray. See the full list below! ~Alexandra Heilbron
My Salinger Year - In the late 1990s, aspiring young writer Joanna Rakoff (Margaret Qualley) lands a job at a literary agency whose clients include reclusive author J.D. Salinger. Her eccentric, old-fashioned boss Margaret (Sigourney Weaver) gives Joanna tasks such as transcribing letters using a typewriter and answering Salinger's voluminous fan mail with a form letter. As Joanna struggles to find meaning in her job, she also realizes that she can't give up on her dreams. Available Nov. 9 on DVD/Blu-ray.
Sigourney Weaver and director Philippe Falardeau discuss their movie My Salinger Year, based on a memoir by Joanna Rakoff. Philippe reveals how he had Montreal stand in as New York City in the 1990s, while Sigourney talks about what kind of fan letters she receives and what inspired her the most in bringing her character to the big screen.
Red Notice - FBI Special Agent John Hartley (Dwayne Johnson) is hot on the tail of two art thieves that have been put on Red Notice. After finally tracking down Nolan Booth (Ryan Reynolds), the first of his targets, Hartley recruits him to help track down target number two: Sarah Black (Gal Gadot). Debuts Nov. 12 on Netflix.
Passing - Clare (Ruth Negga) is a light-skinned Black woman who has been living her life as a white person. She's married to a racist (Alexander Skarsgård) who believes she's white, as do all their friends. Clare runs into an old classmate Irene (Tessa Thompson) at an all-white restaurant that's restricted to Blacks, but Irene has decided to take a chance and see if she can also pass for white. Based on the novel by Nella Larsen. Debuts on Netflix Nov. 10.
November 9
Coming Home in the Dark (DVD/Blu-ray)
Four Good Days (DVD/Blu-ray)
My Salinger Year (DVD/Blu-ray)
Reminiscence (DVD/Blu-ray)
Respect (DVD/Blu-ray)
Shetland: Season 6 (BritBox)
Swap Shop (Netflix)
Witch Hunt (DVD)
Your Life Is a Joke (Netflix)
November 10
Animal (Netflix)
Everybody Loves Raymond: Seasons 1-5 (Netflix)
Gentefied: Season 2 (Netflix)
The Great North: Season 2, New Episode (Disney+)
Passing (Netflix)
The Simpsons: Season 33, New Episode (Disney+)
November 11
The Challenge: All Stars: Season 2 (Paramount+)
Love Never Lies (Netflix)
Pharma Bro (Amazon Prime Video)
November 12
Always Jane (Amazon Prime Video)
The Ballad Of Nessie (Short) (Disney+)
Ciao Alberto (Short) (Disney+)
The Comeback Trail (Amazon Prime Video)
Dopesick: Season 1 (Disney+)
Enchanted (Disney+)
Entrelazados (Disney+)
Feast (Short) (Disney+)
Frozen Fever (Short) (Disney+)
Get A Horse! (Short) (Disney+)
Home Sweet Home Alone (Disney+)
Jungle Cruise (Disney+)
The Little Matchgirl (Short) (Disney+)
Marvel Studios' Disney+ Day Special (Disney+)
Mayor Pete (Amazon Prime Video)
The Morning Show: New Episode (Apple TV+)
Olaf Presents: Season 1 (Disney+)
Paperman (Short) (Disney+)
Pau Gasol: Lo Importante Es El Viaje (Amazon Prime Video)
Red Notice (Netflix)
Shang-Chi And The Legend Of The Ten Rings (Disney+)
The Simpsons: All-new Short (Disney+)
Tangled Ever After (Short)
Tick Tock Tale (Short)
Under The Helmet: The Legacy of Boba Fett (Disney+)
November 13
Arcane: New Episodes (Netflix)
November 14
Heartland: Season 15, New Episode (CBC Gem)
Mayor of Kingstown (Paramount+)