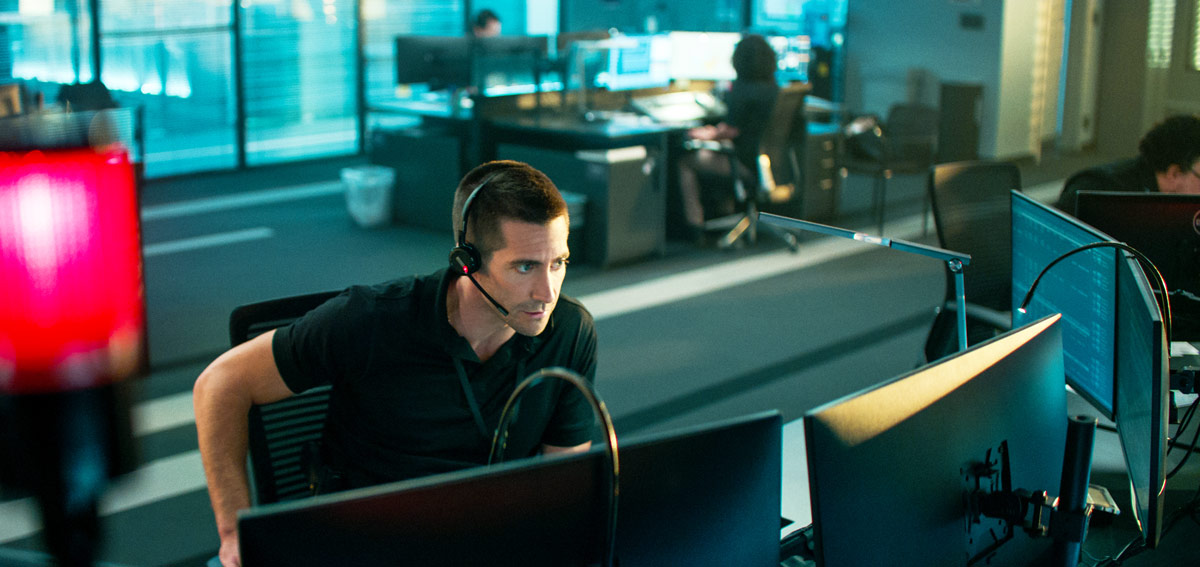 Check out this week's new releases on Netflix, Disney+, Amazon Prime Video, Apple TV+, BritBox and other streaming channels, as well as what's available on DVD/Blu-ray. Highlights include the Halloween-themed series Scaredy Cats for kids; theatre lovers will enjoy the Broadway production Diana: The Musical and also for adults, the thriller The Guilty starring Jake Gyllenhaal. ~Alexandra Heilbron
The Guilty - Police officer Joe Bayler (Jake Gyllenhaal) has been demoted to answering 911 emergency calls, but finds the tedious task draining. He goes through the typical ups and downs of the job, including time-wasting requests that wear his patience thin. However, when he receives a cryptic call from a woman (Riley Keough) who seems to be discreetly reporting her own abduction, he puts all his experience to the task. Debuts October 1 on Netflix.
Scaredy Cats - On Willa Ward's (Sophia Reid-Gantzert) 12th birthday, she inherits a beautiful cat amulet necklace that belonged to her mother, whom she discovers was a witch. When she learns that two bad witches are after her locket so they can have ultimate power, Willa and her best friends Scout (Ava Augustin) and Lily (Daphne Hoskins) turn into cats to escape. They must learn to use the necklace to defeat the bad witches and save their town. Debuts October 1 on Netflix.
Diana: The Musical - With music and lyrics by David Bryan, the dazzling and devastating life of Princess Diana (Jeanna de Waal) takes center stage in this original musical, filmed in advance of its official Broadway opening. Debuts October 1 on Netflix.
September 27
Judy (Netflix)
September 28
Ada Twist, Scientist (Netflix)
Attack of the Hollywood Clichés! (Netflix)
Blithe Spirit (DVD/Blu-ray)
The Forever Purge (DVD/Blu-ray)
Lucan (BritBox)
The Lucan Mystery (BritBox)
Only Murders In The Building: S1, New Episode (Disney+)
Twist (DVD/Blu-ray)
September 29
69: The Saga of Danny Hernandez (Amazon Prime Video)
American Horror Stories: S1, New Episode (Disney+)
The Chestnut Man (Netflix)
Chip 'N' Dale: Park Life: S1, New Episode (Disney+)
Disney Junior Ready For Preschool: S1 (Disney+)
Doogie Kamealoha, M.D.: S1, New Episode (Disney+)
Free Guy (Disney+)
Friendzone (Netflix)
Jack Ryan: Shadow Recruit (Amazon Prime Video)
MeatEater: S10 Part 1 (Netflix)
Motherland: Fort Salem: S2 (Disney+)
Next: S1 (Disney+)
No One Gets Out Alive (Netflix)
Reservation Dogs: S1, New Episode (Disney+)
Sounds Like Love (Netflix)
Star Wars: A Galaxy of Sounds: S1 (Disney+)
True Story Avec: S2 (Amazon Original)
Turner & Hooch: S1, New Episode (Disney+)
What If…?: S1, New Episode (Disney+)
September 30
Grey's Anatomy: S17 (Netflix)
Love 101: S2 (Netflix)
Luna Park (Netflix)
October 1
8 Out of 10 Cats: S22 (BritBox)
30 Days of Night (Netflix)
A Dog's Journey (Netflix)
A Sinister Sect: Colonia Dignidad (Netflix)
Abominable (Netflix)
Addams Family Values (Netflix)
The Adventures of Sharkboy and Lavagirl (Netflix)
Alita: Battle Angel (Disney+)
Anatomy (Netflix)
Anchorman 2: The Legend Continues (Netflix)
Anchorman: The Legend of Ron Burgundy (Netflix)
Beerfest (Tubi)
Blades of Glory (Netflix)
Bones (2001) (Tubi)
Bruce Almighty (Netflix)
The Cabin in the Woods (Netflix)
Catch Me If You Can (Netflix)
Charlotte's Web (Netflix)
Corpse Bride (Netflix)
Dark Shadows (Netflix & Tubi)
The Devil's Rejects (Netflix)
Diana: The Musical (Netflix)
Disney Princess Remixed: An Ultimate Princess Celebration (Disney+)
Escape Plan (Netflix)
Failure to Launch (Netflix)
Flight (Netflix)
Forever Rich (Netflix)
Freddy vs. Jason (2003) (Tubi)
Freedom Writers (Netflix)
Good Boys (Netflix)
The Guilty (Netflix)
Half Nelson (Tubi)
Heat (Netflix)
Jackass: The Movie (Netflix)
Just Roll With It: You Decide Live! (Disney+)
LEGO Star Wars Terrifying Tales (Disney+)
The Little Vampire (2000) (Tubi)
Knock Knock (Netflix)
MAID (Netflix)
Mamma Mia! (Netflix)
Men in Black 3 (Netflix)
The Missing (Netflix)
The Morning Show S2: New Episode (Apple TV+)
Paik's Spirit (Netflix)
The People vs. Larry Flynt (Netflix)
Prodigal Son: S1-2 (Netflix)
Ride Along 2 (Netflix)
The Ring (Netflix)
Safe House (Netflix)
Saving Private Ryan (Netflix)
Scaredy Cats (Netflix)
The Scariest Story Ever: A Mickey Mouse Halloween Spooktacular! (Disney+)
Seinfeld: S1-9 (Netflix)
The Seven Deadly Sins: Cursed by Light (Netflix)
Swallow (Netflix)
Talladega Nights: The Ballad of Ricky Bobby (Netflix)
Ted Lasso S2: New Episode (Apple TV+)
Trick 'r Treat (2007) (Tubi)
Wyatt Earp (Netflix)
October 3
After (Netflix)
Scissor Seven: S3 (Netflix)
Upcoming Summer (Netflix)