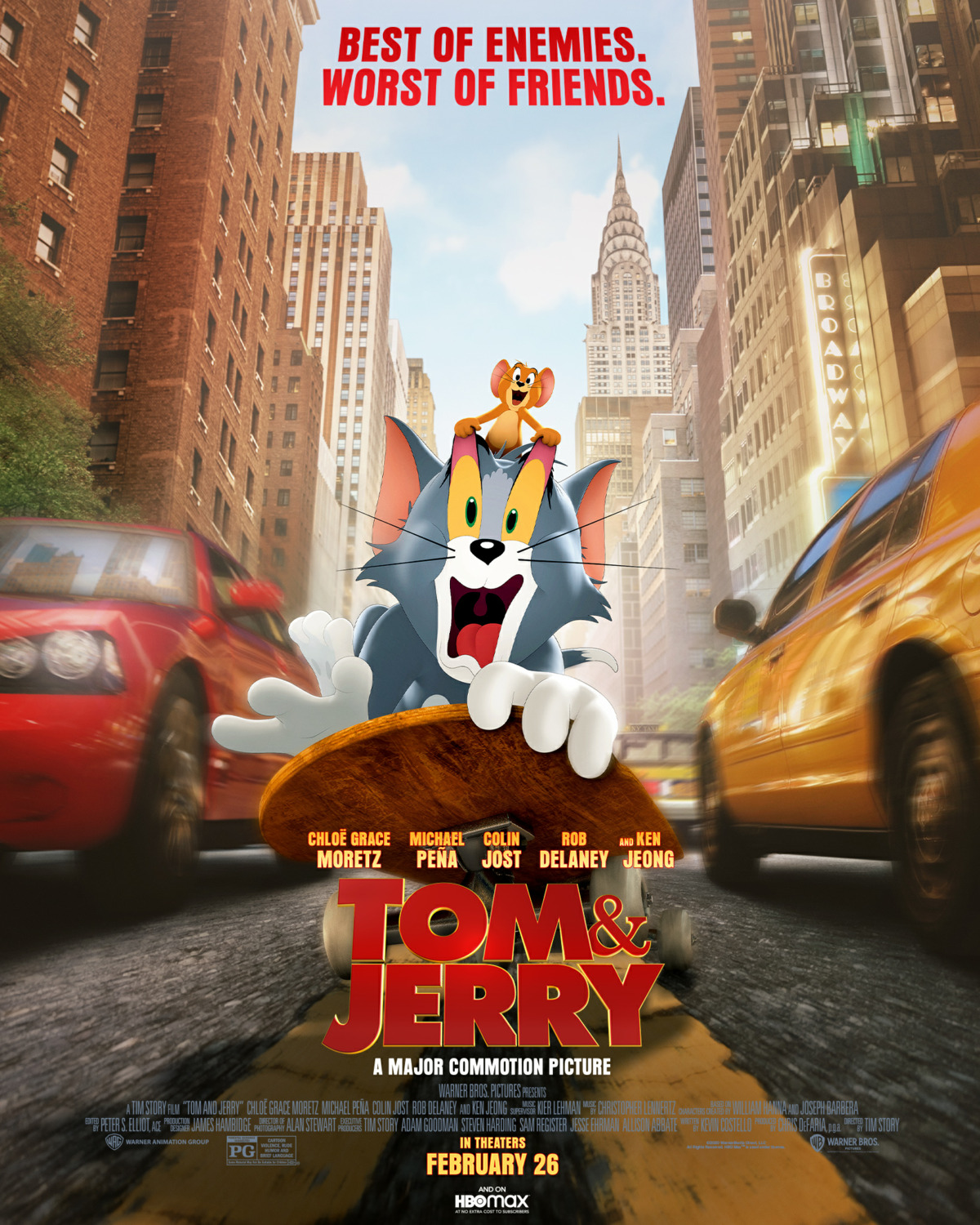 There are four movies coming out today, including the new animated movie Tom & Jerry, a Billie Eilish documentary, and the critically acclaimed Minari. Watch the trailers below to decide what you want to see at the cinema this weekend! ~Sean Olegario
Tom & Jerry - One of the most beloved rivalries in history is reignited when Jerry moves into New York City's finest hotel on the eve of "the wedding of the century," forcing the event's planner (Michael Peña) to hire Tom to get rid of him. The ensuing cat and mouse battle threatens to destroy his career, the wedding and possibly the hotel itself. But soon, an even bigger problem arises, forcing Tom & Jerry to do the unthinkable... work together to save the day. In theaters and on VOD. Click here for showtimes.
Billie Eilish: The World's a Little Blurry - This documentary shows now-18-year-old Billie Eilish as she tours and records her debut studio album, "When We All Fall Asleep, Where Do We Go?" She is seen alongside her older brother, Finneas O'Connell, as they write and record together. The 2019 album went on to win four Grammys. The 30-minute doc chronicles her life and career, including intimate behind-the-scenes footage. Playing in select cities and also debuts on Apple TV+ today. Click here for showtimes.
Minari - Jacob (Steven Yeun) and his wife Monica (Yeri Han) move from Korea to the United States in search of their own American Dream. Although they first live in California, Jacob decides to move with Monica and their two children to rural Arkansas, to live on a 50-acre farm where he plans to grow Korean fruit and vegetables. This causes strife, because Monica preferred California, where she enjoyed the social life of a big city. Monica's outspoken and lively mother comes to live with the family to provide advice for the parents and to help with the children. Playing in select cities and also available on Digital & VOD. Click here for showtimes.
The Mauritanian - Mohamedou Ould Salahi (Tahar Rahim) has been held for years in prison at Guantanamo Bay Prison Camp by the U.S. Government on suspicion that he was involved in the attacks that took place in America on 9/11. Defense attorney Nancy Hollander (Jodie Foster) and her associate Teri Duncan (Shailene Woodley) decide to take on his case. They run into opposition from military prosecutor Lieutenant Colonel Stuart Couch (Benedict Cumberbatch), but as he uncovers evidence, he begins to believe there has been a shocking and far-reaching conspiracy to detain innocent men. Playing in Kingston, Halifax, Saskatoon and Regina. Click here for showtimes.