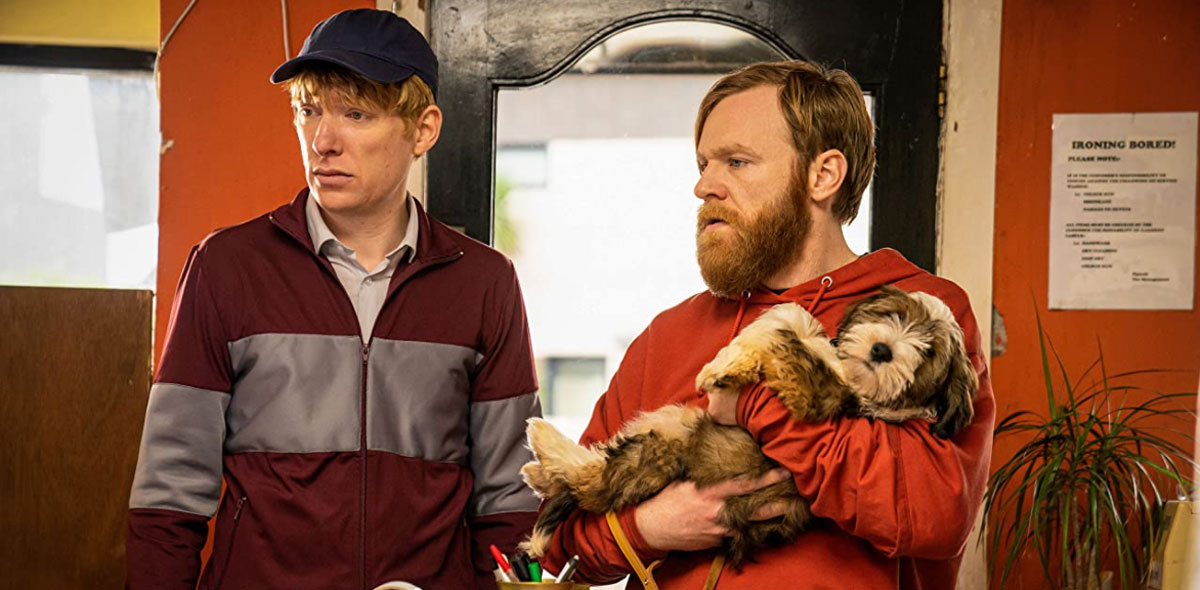 Check out the new DVDs, Blu-rays and streaming shows (Netflix, Amazon Prime Video, BritBox, Disney+, Acorn TV and more) coming out this week, including two new comedy series: Frank of Ireland starring Domhnall Gleeson and Brian Gleeson, and Made for Love starring Cristin Milioti and Billy Magnussen. ~Alexandra Heilbron
Frank of Ireland - Frank (Brian Gleeson), 32, lives in Dublin with his long-suffering mother, who wishes Frank would just get a job and move out. Newly single, Frank considers music to be his career, even though he hasn't written a song or played a gig in years. His ex-girlfriend has just found a new boyfriend, and Frank is finding that difficult to deal with. Luckily, Frank has a loyal best friend, Doofus (Domhnall Gleeson), who is always available to clear the debris left in Frank's wake. Debuts April 16 on Amazon Prime Video.
Domhnall Gleeson gives the inside information on coming up with the idea for the new comedy series Frank of Ireland with his younger brother Brian Gleeson and Michael Moloney, and shares his love of the classic comedy show Father Ted with Alexandra Heilbron. He describes what the differences are between working on the series and working on a big budget motion picture like Peter Rabbit 2: The Runaway.
Made for Love - Hazel (Cristin Milioti) lives with her husband, tech billionaire Byron Gogol (Billy Magnussen), in The Hub, which transforms itself into any setting they want—from a beautiful beach to the mountains. After 10 years of marriage, Hazel feels trapped. She's unable to contact her family and friends. She knows that with all the tech and security Byron has, leaving would be difficult. Not only that, but she discovers her husband has implanted a monitoring device—the Made for Love chip—in her brain, allowing him to track her. Hazel escapes, even though Byron can track her every move as she takes refuge with her father (Ray Romano). Debuts April 16 on Amazon Prime Video.
Cristin Milioti and Billy Magnussen chat about their new series, Made for Love, which has a unique premise. Cristin -- who jokes that she and Billy are "feral" during the seventh hour of their interview day -- compares the role she plays in this to her role in Palm Springs,'while Billy describes his character as a man who fell in love with the idea of love, but  was living a fantasy instead of real life. They each reveal what would be their perfect setting for The Hub (a place Billy's character has built in which the setting of the house can be changed using technology) and describe their co-star Ray Romano.
Boss Level - Roy Pulver (Frank Grillo) is a former special forces agent who finds himself reliving the day of his murder in an endless cycle. As he tries to figure out how he can escape the time loop, he comes up with a theory. His ex-wife Jemma (Naomi Watts) was killed by a gang of murderers led by Colonel Clive Vector (Mel Gibson), as she was working on a time-travel machine. He believes Jemma may have put him in a time loop so he can replay the events until he figures out how to put a stop to it and save not only himself, but Jemma and their son. Available April 13 on DVD/Blu-ray/VOD/Digital.
Love and Monsters - After seven years in an underground bunker with other survivors of a monster apocalypse, Joel (Dylan O'Brien) believes he's discovered his girlfriend Aimee's (Jessica Henwick) colony on the radio and sets out on an 85-mile journey to find her. Along the way, he meets other survivors, including expert hunter Clyde (Michael Rooker) and his young sidekick Minnow (Ariana Greenblatt), who teach him how to survive. Debuts April 14 on Netflix.
April 12
After the Storm (Sundance Now)
The Brokenwood Mysteries: Series 7 (Acorn TV)
Foreign Letters (Sundance Now)
Genesis (Sundance Now)
In Deep: Series 3 (Acorn TV)
Keeping Faith: Series 3, Episodes 1 & 2 (Acorn TV)
New Gods: Nezha Reborn (Netflix)
Teen Spirit (Netflix)
April 13
The Baker and the Beauty: Season 1 (Netflix)
Boss Level (DVD/Blu-ray/VOD/Digital)
Godzilla: King of the Monsters (Netflix)
Kate & Koji: Season 1 (BritBox)
Leap of Faith (DVD/Blu-ray/VOD/Digital)
Mighty Express: Season 3 (Netflix)
My Love: Six Stories of True Love (Netflix)
April 14
The Circle: Season 2 (Netflix)
Dad Stop Embarrassing Me! (Netflix Original)
The Intruder (Netflix)
Law School (Netflix Original)
Love and Monsters (Netflix)
Rahul Subramanian 2 (Amazon Prime Video)The Soul (Netflix)
Why Did You Kill Me? (Netflix)
April 15
Ride or Die (Netflix)
April 16
The 2nd (Netflix)
American Dad: Season 16 (Disney+)
Arlo the Alligator Boy (Netflix)
Ajeeb Daastaans (Netflix)
Disney Secrets of Sulphur Springs: Season 1 (Disney+)
Earth Moods (Disney+)
The Falcon and The Winter Soldier: Season 1, New Episode (Disney+)
Fast & Furious Spy Racers: Season 4: Mexico (Netflix)
Frank of Ireland (Amazon Original)
Grown-ish: Season 3, New Episode (Disney+)
Helstrom: Season 1, New Episode (Disney+)
Into the Beat (Netflix)
The Kid Who Would Be King (Disney+)
Love, Victor: Season 1, New Episode (Disney+)
Made for Love (Amazon Exclusive)
The Mighty Ducks: Game Changers: Season 1, New Episode (Disney+)
Mr. Mercedes: Season 1-3 (Amazon Prime Video)
Rio (Disney+)
Rio 2 (Disney+)
Shiva 143 (Amazon Prime Video)
Solar Opposites: Season 2, New Episode (Disney+)
The Souvenir (Amazon Prime Video)
Tut's Treasures: Hidden Secrets: Season 1 (Disney+)
White Fang 2: Myth of the White Wolf (Disney+)
Why Are You Like This (Netflix Original)
Wander (Amazon Prime Video)
April 18
Luis Miguel – The Series: Season 2 (Netflix Original)