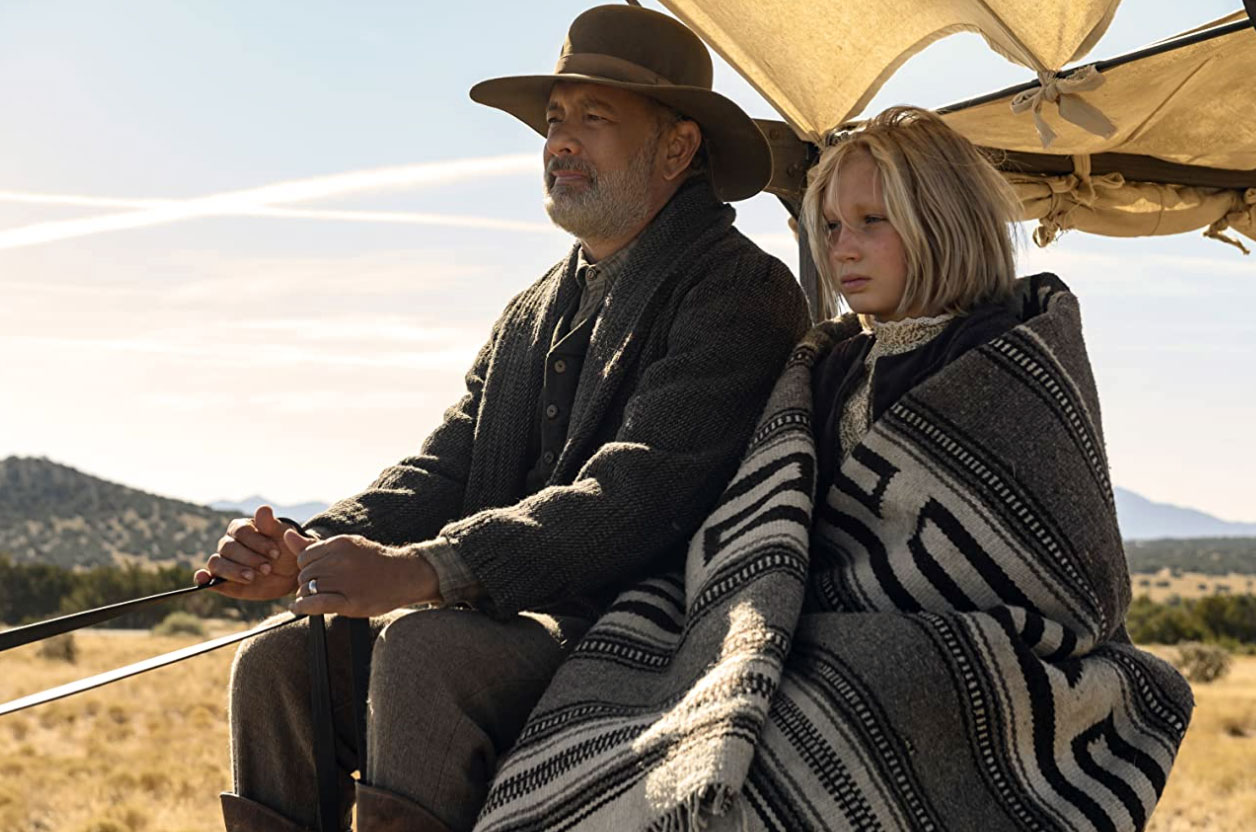 Check out the new DVDs, Blu-rays and streaming shows (Netflix, Amazon Prime Video, BritBox, Disney+, Acorn TV and more) coming out this week, including the Oscar-nominated films News of the World starring Tom Hanks, and Soul, featuring the voices of Jamie Foxx and Tina Fey. ~Alexandra Heilbron
News of the World - When Captain Jefferson Kyle Kidd (Tom Hanks) comes across a little girl named Johanna (Helena Zengel) in the woods, he learns she was kidnapped six years earlier by the Kiowa Indians, who murdered her parents and sister. Now 10, she doesn't speak English and even though her Kiowa family has been killed by soldiers, she's resistant to being rescued and leaving her Indian life and ways behind. Kidd decides to deliver the somber little girl to her aunt and uncle in Castroville, Texas, but the journey is a dangerous one. Available on DVD/Blu-ray, Digital and VOD March 23.
Soul - Struggling jazz musician Joe (Jamie Foxx) can't believe his luck when an audition lands a gig that very night. As he's walking home, elated by his success, he takes a misstep that sends him to a fantastical place where he's is forced to think about what it truly means to have a soul. There he meets 22 (Tina Fey), a soul who doesn't think life on Earth is all it's cracked up to be, no matter what Joe tells her. To their surprise, they discover Joe is still alive, but unconscious in a hospital bed, and they rush to figure out how to get Joe's soul back to his earthly body. Available on DVD/Blu-ray March 23. Also streaming on Disney+.
Breaking News in Yuba County - Nancy (Mila Kunis) arrives at her half-sister Sue Buttons' (Allison Janney) home to find everything in disarray. Sue -- who seems in shock -- explains that someone must have broken in and destroyed her house. Not only that, but her husband (Matthew Modine) is missing. When Nancy and Sue go on TV to report the crime, it places a lot of attention on Sue, including suspicion that she has something to do with the disappearance. Available on DVD/Blu-ray/Digital and VOD March 23.
The Undoing - Grace Fraser (Nicole Kidman) is a New York psychologist whose world falls apart when her oncologist husband Jonathan (Hugh Grant) is arrested for the brutal murder of Elena Alves, a fellow parent at her son's private school. The police can't locate Jonathan, who might have fled the country. Furthermore, Grace is shocked when Detective Joe Mendoza reveals that Jonathan was no longer employed at the hospital after being terminated due to inappropriate contact with Elena. Available on DVD/Blu-ray March 23.
Iron Mask - Action legends Jackie Chan and Arnold Schwarzenegger team up in a high concept fantasy/historical epic featuring breath-taking fights and stunning visuals. In the 18th century, English traveler Jonathan Green (Jason Flemyng) journeys from Russia to China encountering dragons, black magic wizardry and a dragon king during an incredible but deadly adventure. Available on DVD/Blu-ray/Digital and VOD March 23.
March 22
The Attaché (Acorn TV Exclusive)
Bloodlands: Episode 2 of 4 (Acorn TV Original)
Navillera (Netflix Original)
Saving Britain's Worst Zoo (Acorn TV)
March 23
Amber's Descent (DVD/VOD)
Beverly Hills 90210: The Ultimate Collection (DVD)
Breaking News in Yuba County (DVD/Blu-ray/Digital/VOD)
Donny's Bar Mitzvah (Digital)
I Am Lisa (VOD/Digital)
Iron Mask (DVD/Blu-ray/Digital/VOD)
Loyiso Gola: Unlearning (Netflix)
Pokémon Detective Pikachu (Netflix)
New Tricks: Seasons 7-12 (BritBox)
News of the World (DVD/Blu-ray/Digital/VOD)
Soul (DVD/Blu-ray/Disney+)
Soulmates (DVD/Blu-ray)
The Undoing (DVD/Blu-ray)
March 24
Seaspiracy (Netflix)
Who Killed Sara? (Netflix Original)
March 25
Ammonite (Amazon Prime Video)
Caught by a Wave (Netflix)
DOTA: Dragon's Blood (Netflix)
The Restaurant: 1951 (Sundance Now)
Secret Magic Control Agency (Netflix)
She Dies Tomorrow (Amazon Prime Video)
March 26
A Week Away (Netflix)
Bad Trip (Netflix)
Boogie (VOD)
Code Black: Season 1-3 (Disney+)
Croupier (1998) (Netflix)
Edible Gardens (BritBox)
The Falcon and The Winter Soldier: Season 1, Episode 2 (Disney+)
Ghost Whisperer: Seasons 1-5 (Disney+)
Gnomeo & Juliet (2011) (Disney+)
Grown-ish: Season 3, New Episode (Disney+)
The Help (Disney+)
Helstrom: Season 1, New Episode (Disney+)
Honest Thief (Netflix)
Invincible: Season 1 (Amazon Prime Original)
The Irregulars (Netflix Original)
Life in a Cottage Garden (BritBox)
Love, Victor: Season 1, New Episode (Disney+)
Kavaludaari (Amazon Prime Video)
Magic for Humans by Mago Pop (Netflix Original)
The Mighty Ducks: Game Changers: Season 1, Episode 1 (Disney+)
Nailed It!: Double Trouble (Netflix Original)
Six Minutes to Midnight (VOD/Digital)
Solar Opposites: Season 1, New Episode (Disney+)
Taste The Nation with Padma Lakshmi: Season 1 (Disney+)
March 27
Rocketry: The Nambi Effect (Amazon Prime Video)
March 28
Bill & Ted Face The Music (Netflix)
Hit 2 (Amazon Prime Video)