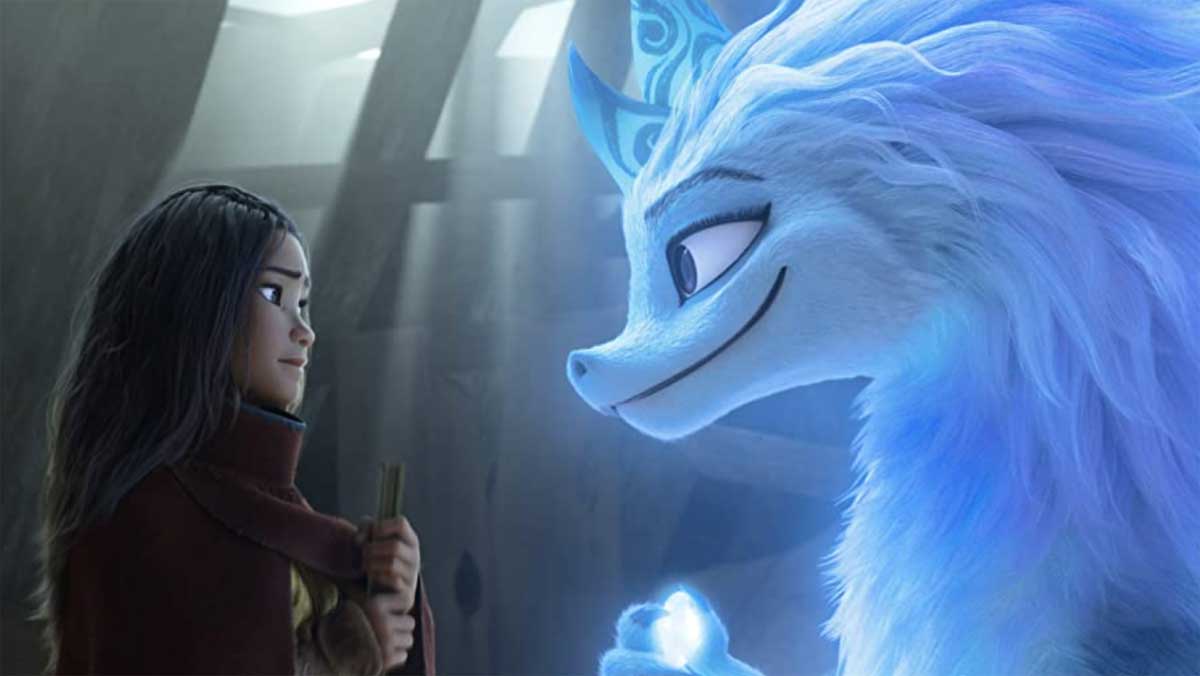 Check out the new DVDs, Blu-rays and streaming shows (Netflix, Amazon Prime Video, Disney+, Apple TV+, Acorn TV and more) coming out this week, including Disney's box office hit film Raya and the Last Dragon, as well as The Father, starring Oscar-winner Anthony Hopkins, the music documentary P!NK: All I Know So Far and Minari, featuring an Oscar-winning performance by Yuh-jung Youn. ~Alexandra Heilbron
Raya and the Last Dragon - Kumandra is a world where dragons and humans lived in peace and harmony, but when an evil force, known as the Druun, threatened to disturb their peace, the dragons sacrificed themselves to save humanity. The Druun return 500 years later to finish what they started. Raya (Kelly Marie Tran) must bring a team together in order to find the last dragon, Sisu (Awkwafina), who is prophesied to defeat the Druun.
P!NK: All I Know So Far - Director Michael Gracey (The Greatest Showman) follows Pink (Alecia Moore) during her Beautiful Trauma World Tour, focusing on her time in Europe in 2019 with her husband, professional motocross racer Carey Hart, and their children, daughter Willow and toddler son Jameson. The focus is on Pink as a person, whose first priority is to spend time with her children and make sure they are well loved. There are concerts in Amsterdam and Belgium, before the highly anticipated concerts at Wembley Stadium in London.

Director Michael Gracey talks about his new music documentary, P!NK: All I Know So Far. He reveals that Pink gave his crew full access to her life and family during the shoot, which gave the film a very special view of her life during her concert tour in Europe. He talks about how Pink's relationship with her small children has made them really unique kids and also discusses why her fans are very special to her.

Minari - In the 1980s, Jacob (Steven Yeun) and wife Monica move from Korea with their children David and Ann to the United States in search of their own American Dream. Although they first live in California, Jacob decides to settle the family in Arkansas, to live on a 50-acre farm where he'll grow Korean fruit and vegetables. Monica preferred California, because she enjoyed the social life of a big city. The two wind up bickering, so Monica's outspoken and lively mother Soonja (Yuh-jung Youn) comes to live with the family in Arkansas to provide advice for the parents and to help with the children.
The Father - Anthony (Anthony Hopkins) doesn't want to leave the luxurious London flat where he's lived for many years. When his daughter Anne (Olivia Colman), who lives with him, announces she's leaving to live in Paris, Anthony worries about what will happen to him. Anne worries as well, because her father is showing signs of dementia and becomes suspicious of Anne, wondering if she's playing tricks on him to make him believe he's not all there.
Tom & Jerry - When Jerry moves into New York City's finest hotel on the eve of "the wedding of the century," new employee Kayla (Chloë Grace Moretz) is told there's a "mouse problem" and is asked to handle it. She decides to hire a cat to get rid of the mouse. And so Tom gets the job. As Tom's every attempt to catch Jerry fails, the entire wedding and possibly the hotel itself are threatened. But soon, an even bigger problem arises: a diabolically ambitious staffer conspiring against all three of them—forcing Tom & Jerry to do the unthinkable... work together to save the day.
May 17
Annabelle Comes Home (Netflix)
The Ballad of Genesis and Lady Jaye (Sundance Now)
Digging for Britain: Series 5-6 (Acorn TV)
How I Created a Cult (BBC SELECT)
I Killed My Mother (Sundance Now)
Like Father Like Son (Acorn TV)
The Squid and the Whale (Sundance Now)
May 18
100 Candles (DVD/VOD)
2149: The Aftermath (DVD/VOD/Digital)
Above Suspicion (DVD/Blu-ray/VOD/Digital)
Beverly Hills 90210: The Ultimate Collection (DVD)
Cosmic Sin (DVD/Blu-ray)
The Father (DVD/Blu-ray/Digital)
The Great: Season 1 (DVD)
Hunted (DVD/Blu-ray/VOD)
Line of Duty: Season 6 (BritBox)
Men in Black: International (Netflix)
Minari (DVD/Blu-ray/Digital/VOD)
Mission: Impossible 25th Anniversary Special Edition (Blu-ray)
Poms (Netflix)
Raya and the Last Dragon (DVD/Blu-ray/Digital)
Rugrats: The Complete Series (DVD)
The Salisbury Poisonings (DVD)
Sardar Ka Grandson (Netflix)
Shadow Lines: Season 1 (DVD)
Son (DVD/Blu-ray)
The Snoopy 4-Movie Collection (Blu-ray)
Stand! (VOD/Digital)
Star Trek: Lower Decks: Season 1 (DVD/Blu-ray)
Supernova (DVD/Blu-ray/Digital/VOD)
Tom & Jerry (DVD/Blu-ray/VOD)
Trigger Point (VOD)
Willy's Wonderland (DVD/Blu-ray/Digital/VOD)
Yellowstone: Season 3 (DVD/Blu-ray)
Yellowstone: The First Three Seasons (DVD)
May 19
The Last Days (Netflix)
Who Killed Sara?: Season 2 (Netflix Original)
May 20
Hating Peter Tatchell (Netflix)
The Nest (Sundance Now)
Special: Season 2 (Netflix Original)
Waiting For The Barbarians (Amazon Prime Video)
May 21
5x: Comedia: Season 1 (Amazon Original)
Army of the Dead (Netflix)
Air Crash Investigation: Season 11 (Disney+)
Akashinga: The Brave Ones (Disney+)
Alaska's Deadliest: Season 1 (Disney+)
An Innocent Man (Disney+)
Big Shot: Season 1, New Episode (Disney+)
Black Widow (1987) (Disney+)
Cowgirls 'N Angels (Disney+)
The Crossing: Season 1 (Disney+)
Deadfall (Disney+)
Deadly Instincts: Season 1 (Disney+)
Deep State: Season 1-2 (Disney+)
Disney Big City Greens: Season 2 (Disney+)
Drugs, Inc.: Dealer POV (Disney+)
Fury Files: Interstitials (Disney+)
Grown-ish: Season 3, New Episode) (Disney+)
Gulliver's Travels (2010) (Disney+)
High School Musical: The Musical: The Series: Season 2, New Episode (Disney+)
Inside Pixar: Unpacked (Disney+)
Jurassic World Camp Cretaceous: Season 3 (Netflix)
The Me You Can't See (Apple TV+)
The Mighty Ducks: Game Changers: Season 1, New Episode (Disney+)
Marvel's M.O.D.O.K.: Season 1, Premiere (Disney+)
Narco Wars: Season 1 (Disney+)
The Neighbor: Season 2 (Netflix Original)
P!NK: All I Know So Far (Amazon Original)
Pitch: Season 1 (Disney+)
Rel: Season 1 (Disney+)
The Retreat (VOD)
The Seeker: The Dark is Rising (Disney+)
Solar Opposites: Season 2, New Episode (Disney+)
Solos: Season 1 (Amazon Original)
Star Wars: The Bad Batch: Season 1, New Episode (Disney+)
Still Star-Crossed: Season 1 (Disney+)
Tin Men (Disney+)
Tinker Bell and the Legend of the Neverbeast (Disney+)
When Sharks Attack: Season 1-4 (Disney+)
May 22
Tuck Jagdish (Amazon Prime Video)
May 23
Us (Netflix)